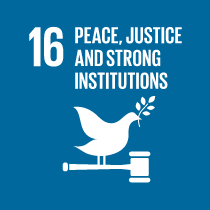 3 Research Projects | 199 Publications | 10 Patents
Centre for International Peace and Stability (CIPS)
The Centre for International Peace and Stability (CIPS) was established and inaugurated by UNSG Ban Ki-moon on 13th August 2013 in NUST. It is one of its kind institute established to conduct research and training in matters related to UN Peacekeeping Operations (UNPKOs). Its mandate is not restricted to the relatively narrow field of peace-keeping, but it also offers combined graduate programs in Peace & Conflict Studies (PCS) with short courses on pre-deployment peacekeeping training. With time, CIPS has emerged as a centre of excellence in international peace and stability with a focus on peacekeeping, peacebuilding, and conflict resolution within the context of prevailing international and regional politics.

NUST launches Law Program
NUST established the Department of Law in Fall 2020 in fulfilling its commitment to creating professionals and future leadership of the country. The academic program is adopted keeping in view the needs of the society and the national and international legal systems. The teaching methodology is designed to enable students to acquire professional skills and enhance their capacity of Legal Analysis, Legal Research and Writing, Legal Problem Solving, Client Services and Professional Responsibility.
Reconstructing Pakistan's Counter terrorism Strategy: Setting Grounds for a Revised National Action Plan
This research project by researchers at the Centre for International Peace and Stability (CIPS), aims to chronologically explore the trends concerning counterterrorism efforts and strategies by Pakistan i.e., prior to the National Action Plan (NAP). Such an analysis will enable to highlight the politics and contentions (including social and religious) regarding the re construction of counter terrorism strategy, both at society and policy level. Furthermore, the research reinforces the significance of 'National Action Plan' (NAP) to implement and drive the counter-terrorism strategy. The research project necessitated the involvement of participants who have been associated with institutions such as the National Counter Terrorism Authority (NACTA), Ministry of Interior (MoI), Pakistan's armed forces, Federal Investigation  Agency (FIA), Counter-Terrorism Departments (CTDs), other Law Enforcement Agencies (LEAs) and individuals and experts from academics and think-tanks who have been at the forefront of (counterterrorism) policy/ strategy formulation.
NUST Institute of Policy Studies Arranges Webinar on China India Standoff Implications for the Region and Pakistan
The NUST Institute of Policy Studies (NIPS), Pakistan's leading university-based think tank, organised a high-powered webinar to examine the implications of ongoing China-India standoff on the security of the region and  Pakistan. The virtual event was attended by former veteran diplomats, former senior military officials, academics, policy experts and eminent members of the think tank community. The webinar was chaired by Lt Gen Naweed Zaman, HI (M), (Retd), Rector NUST & Patron NIPS; and moderated by Dr Ashfaque Hasan Khan, Director General NIPS and Principal NUST School of Social Sciences & Humanities. The participants unanimously emphasized that the current state of relations amongst major powers had turned the region into a critical zone for global peace and stability.