NEWS & EVENTS
NUST ranks 1st in Pakistan and among Top 300 globally in THE Impact Rankings 2021

Maintaining its upward trajectory among leading seats of higher learning globally, the National University of Sciences &Technology (NUST) has evolved as a comprehensive university upholding the values of merit and quality in areas of research, innovation and partnerships for sustainable development.

A testament to this tremendous feat is the Times Higher Education (THE) Impact Rankings 2021 that have placed NUST first in Pakistan and amongst Top 300 in the world in its global ranking of universities advancing the United Nations' Sustainable Development Goals (SDGs) within and beyond their local communities. The rankings assessed more than 1,200 post-secondary institutions globally.

THE Impact Rankings were established in 2019 to assess universities' societal impact based on the UN's SDGs; the 17 goals that outline a universal call to action for the protection of the planet and improvement of the lives and prospects for everyone around the world. Using carefully calibrated indicators across four broad areas of research, outreach, teaching, and stewardship, THE Impact Rankings are a recognition of institutions making strides in sustainability today, for a better tomorrow. HE Impact Rankings 2021 have acknowledged NUST as 1st in Pakistan for SDG 7 'Affordable & Clean Energy,' SDG 9 'Industry, Innovation and Infrastructure,' SDG 12 'Responsible Consumption and Production,' and SDG 17 'Partnerships for the Goals.' 

Globally, NUST is ranked 67th in SDG 7 'Affordable and Clean Energy,' amongst Top 200 in SDG 4 'Quality Education' and SDG 12 'Responsible Consumption and Production' and amongst Top 300 in SDG 9 'Industry, Innovation and Infrastructure and SDG 17 'Partnerships for the Goals.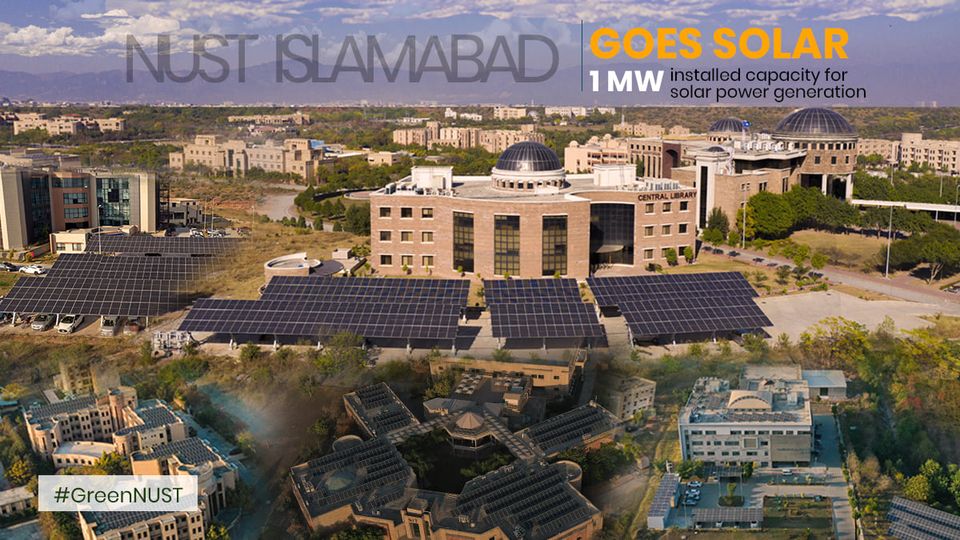 NUST Islmabad Installed 1MW Solar

World-class universities, being hubs of research and innovation, have a responsibility to meaningfully contribute to combatting climate change through strategic planning of operations, effective sustainable policies and governance models.

As a large organisation with 4500+ employees and 18000+ students in 19 Schools and Colleges spread across the country, NUST's operational carbon footprint is closely monitored, and measures are being taken to reduce the impact of our operations through effective sustainable policies and governance models. These measures will contribute to a clean and

#GreenNUST

.

One of the strategies being deployed by NUST to reduce carbon footprint is energy conservation and divesting from fossil fuel-intensive energy while shifting to alternative energy generation methods, with a pledge to shift to 100%

#RenewableEnergy

by 2030!

In a major step towards achieving this objective, NUST's Islamabad campus has reduced its dependence on the local grid by shifting part of its electricity needs to self-generated solar power. As of December 2020, NUST H-12 campus has a total installed capacity of 1 MW for solar power generation. Solar panels are installed at multiple locations across the campus, including rooftops and parking areas.

Moreover, as part of its

#GreenNUST

campaign, NUST is actively working on water conservation and recycling and extensively planned plantation drives across all of its 7 campuses nationwide.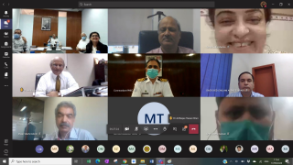 3rd Internal Session on NUST SDGs 2020

Realizing the importance of United Nations 17 SDGs, NUST has adopted UN SDGs framework to monitor and improve the impact of contribution of NUST, not only in national socio-economic growth but also in addressing the multi-dimensional global challenges. Pakistan being the initial signatory of the UN SDGs, a nation-wide commitment by the public and private organizations (including universities) to the UN SDGs is mandated.

As a consequence to this obligation, various International Rankings are being introduced globally to measure a university's impact in terms of sustainability initiatives and SDGs, whereas universities are adopting Education for Sustainable Development (ESD) curricula as a part of regular courses as well as reporting on SDGs. In line with these trends, NUST also embarked upon quantifying its contribution towards SDGs, thus becoming an SDG – engaged university since 2018. Accordingly, a dedicated SDGs Alignment plan has been incorporated with a mission to implement SDGs across all major domains within NUST namely academics, research and innovation, operations and governance, and collaborations.

NUST also participated in Times Higher Education Impact Rankings, which ranks universities on their impact in SDGs, in 2019 for the first time and was ranked between300-400 globally. In 2020, NUST was ranked in the bracket of top 200-300 out of 869 participating universities from across the globe, thus improving its stature.

NUST is now aiming to participate in THE Impact Rankings again this year. Owing to its importance, Rector chaired a session on 17th September, 2020, with all the Directors and heads of relevant schools and colleges.

The session, chaired by Rector NUST Lt. General (R) Naweed Zaman, included participation from 30+ internal stakeholders, including top leadership of the institute, pledged the official commitment to compliance with SDGs. In this session, key challenges and solutions for attaining SDGs were also discussed along with the data compilation, and review techniques. Next meeting is expected to be held in the October, 2020.
'Decentralized Wastewater Treatment System (DWTS) for Peri-Urban & Rural Areas – 14th July, 2020

Institute of Environmental Sciences & Engineering #IESE at #NUST School of Civil & Environmental Engineering #SCEE has arranged an informative webinar on the topic 'Decentralized Wastewater Treatment System (DWTS) for Peri-Urban & Rural Areas.' Participants of the session will include Prof C Visvanathan (Professor, AIT, Thailand), Mr Thewodros Mulugeta (Chief, Water, Sanitation, and Hygiene (WASH) #UNICEF, #Pakistan), Mr Siddiq Ahmed Khan (Country Director, WaterAid, Pakistan), Mr Niaz Ullah Khan (CEO, AWF (Pvt) Ltd), Mr Nadeem Haider (Managing Director, AAN Associates), Engr Sardar Zimri (Director – Sanitation, CDA/MCI), Dr Sher Jamal Khan (Professor, IESE SCEE, NUST),Engr Hassan Sajjad (Site Engineer, NUST), and Engr Muhammad Ali (Senior Associate, SES). The session will be held on July 14, 2020 at 10:00 am. Interested participants can join the webinar at tinyurl.com/webinariese
 

Bio-gas Technology in Pakistan: Scope and Challenges – June 22, 2020

As part of NUST Webinar Series 2020, Pakistan Navy Engineering College PNEC Karachi has arranged a webinar on 'Bio-gas Technology in Pakistan: Scope and Challenges.' The webinar will be conducted by Dr Syed Asad Ali Zaidi, Assistant Professor, PNEC, on June 22, 2020 at 10: 00 am. It is open for NUSTians only and can be joined at the following link on the date and time of the webinar: https://tinyurl.com/Pnecwebinar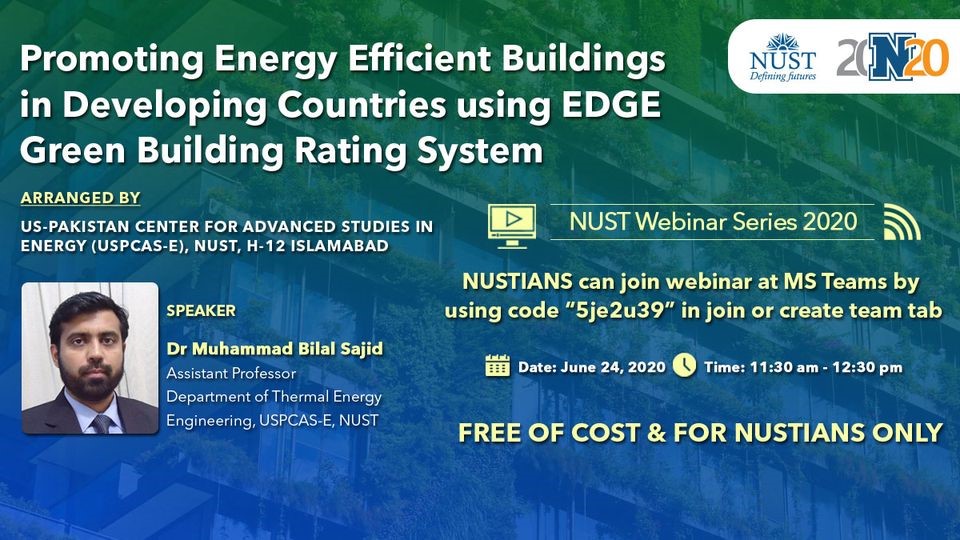 'Promoting Energy Efficient Buildings in Developing Countries Using EDGE Green Building Rating System – June 24,2020

As part of the NUST Webinar Series 2020, NUST US-PAKISTAN CENTER FOR ADVANCED STUDIES IN ENERGY USPCASE brings you a webinar on the topic 'Promoting Energy Efficient Buildings in Developing Countries Using EDGE Green Building Rating System.' The webinar will be conducted by Dr Muhammad Bilal Sajid (Assistant Professor, Thermal Energy Engineering USPCAS-E) on June 24, 2020 at 11:30 am. The webinar is for NUSTians only. Participants can join the webinar on the event day and time on MS Teams by clicking on the Join or Create team tab, and entering the code '5je2u39'.

NUST Energy Research Centre Investigates Repowering Potential of a 49.5 MW Wind Farm Based in the JHIMPIR Wind Corridor

Wind power generation has increased in Pakistan over the last decade as newer renewable resources were explored to curb the electricity shortfall in the country. The Gharo-Jhimpir wind corridor, in the province of Sindh, was identified as the most lucrative site for establishing wind power plants in the country. As of now, the Jhimpir wind site alone provides over 70% of the total wind power generation in Pakistan with over 20 operational wind farms and more in the development phase.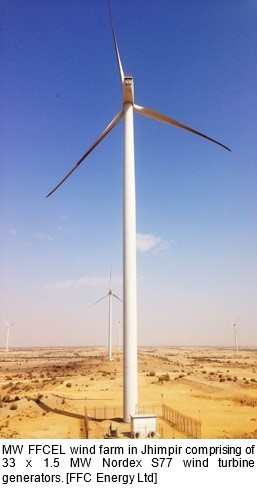 Due to the limitations in terms of a reliable wind resource, available land, project economics, and proximity of electrical grid and communication systems, a wind site can reach a high occupancy due to lesser than ideal intra- and inter-farm distances between wind turbine generators. As a result, energy generation from the downstream located wind farms can be reduced substantially due to the complex wake topographies emerging from the upstream wind farms. Such wake structures are characterized by a wind speed deficit and an increase in the turbulence for downstream wind turbines. In this context, quantification of intra- and inter-farm wake interference is essential to devise an effective re-powering strategy for wind farms. Re-powering would enable an increase in the generation capacity of wind farms either by refurbishment of deteriorated wind turbines or by replacement of the wind turbines with new and more efficient units.

In a recent study conducted by the future power research group of USPCAS-E NUST, two of the upstream wind farms operated by Zorlu Energy Ltd (Zorlu) and Three Gorges First Windfarm (TGF) have been found to have a substantial impact on the wind and power deficit of the downstream wind farm operated by FFC Energy Ltd (FFCEL).

The wind farms under consideration are identified as three of the oldest wind farms operating in the Jhimpir wind corridor. The wake analysis has been made with mesoscale simulations run by the Weather Research and Forecasting (WRF) model coupled with the wind farm parameterization scheme. The simulations have been conducted for ten days in summer 2018, when the high-speed sea breeze approaches Jhimpir from the South-West direction (also the most dominant wind direction). Wakes induced by upstream wind farms have been observed to reduce wind speed and power output by up to 15% and 35%, respectively. The observed data obtained from FFCEL for their 33 x 1.5 MW Nordex S77 type wind turbine generators operating in Jhimpir validated the simulations. Due to an expansive wake flow topography, vertical relocation of 15 most deteriorated wind turbine generators from current 80m hub height to 100m hub height was recommended in the study. As a result, an increase in the power output of about 13.6% is obtained in the 15 re-powered wind turbine generators along with an average power output increase of 7.5% from the wind farm under evaluation. A unique contribution of this work was to demonstrate, in a specific case study with upstream wind farms, how the relative importance of lateral vs. vertical relocation of wind turbine generators can be evaluated from a re-powering perspective.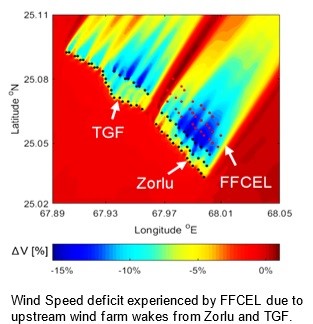 This advanced study is a result of a dynamic collaboration between academia and the wind power industry to achieve sustainability in high-quality research capacity in Pakistan. The USPCAS-E's future power research group is striving to provide technical and policy guidelines to expand the wind energy sector in Pakistan. The novel research will also have socioeconomic effects on the energy outlook of Pakistan by supporting the Government of Pakistan's aim to inject 30% renewable energy in the national energy mix by 2030, adherence to the United Nations's Sustainable Development Goals (SDGs) SDG No. 7 'Affordable and Clean Energy' and SDG No. 13 'Climate Action', and provision of key guidelines to regulatory bodies such as the Alternative Energy Development Board (AEDB) when developing new wind farms in Pakistan. The energy center is looking forward to expanding the research via LiDAR based wind shear profile and turbulence measurements in Jhimpir region to gain further insight into the complex intra- and inter-farm interaction between wind turbine generators.
NUST Gets Manufacturing License For Medical Devices from DRAP

Pakistan's health indicators severely fall short of the required levels. Per capita expenditure on health is very low in Pakistan and in the last eleven years has not increased significantly. Later in 2019 National University of Sciences and Technology amplified the healthcare sector by being the first Pakistani university to develop low-cost indigenous and implants including Bare Metal Stents (BMS), Drug Eluting Stents (DES) and Percutaneous Transluminal Coronary Angioplasty Balloon Catheters (PTCA balloon catheters). In light of this, the Government of Pakistan has funded NUST with up to Rs. 331 Million for the development of Medical Devices Development Center, MDDC.

MDDC at NUST has developed bare metal stents, angioplasty balloon catheters, and has conducted various studies, clinical trials and analysis in Pakistan and abroad. MDDC will gain a stronger foothold in the industry after various studies, clinical trials, and market analysis to meet/surpass the high standards set by international standards. The production of the cost-effective stents will allow MDDC to establish a strong presence not only locally but globally as well.

In latest development, the National University of Sciences & Technology (NUST) has secured the manufacturing license from Pakistan's Drug Regulator Authority (DRAP) for the mass production of Cardiac Stents and Angioplasty Balloon Catheters. This license is a mandatory requirement to manufacture any medical device in Pakistan which is obtained after critical inspection of the facility by the team of inspectors appointed by DRAP. Under this license, NUST is authorized to manufacture the medical devices, especially the stents to be produced commercially for 1/5th price of those available internationally and these will perform on par with other stents manufactured by foreign multi-national businesses. As far as the product technology, raw material and designs are concerned, MDDC has acquired these from Germany, our affiliate (industrial partner). The validation of the finished products, developed at MDDC has been carried out by the German affiliate partner industry.

Medical Devices Development Center (MDDC) at NUST is a dedicated and certified facility in two areas:
To produce Bare Metal Stent System (BMS) and Percutaneous Coronary Angioplasty Catheters (PTCA) at a lower cost for the cardiology hospitals in Pakistan
To produce Drug Eluting Stent System (DES) which covers a larger market share and is more costly or almost inaccessible for the poor people of Pakistan.
Objectives:
Ensure availability of BMS, PTCA and DES to the poor and save foreign exchange being spent every year to import stents.
To equip this Center to meet the market demand of BMS and DES systems throughout the country.
 Benefits to Society:
There is an enormous quantitative financial impact involved by indigenization of biomedical devices which are frequently used for the treatment of general public of Pakistan.
Employment generation
Low cost treatment solution for the patient suffering from Heart (cardiac) diseases
Opportunity for the students to experience Product Realization (from its inception to completion)
Trend setting for indigenization of medical devices.
Special Assistant to PM on Health Dr. Zafar Mirza lauded the efforts of NUST and showing pleasure at such an innovative development he said, the production of heart stents domestically as per the international standards, will help in reducing its prices, facilitate the patients and ultimately will leave positive impact on the country.

Rector NUST, Lt Gen Naweed Zaman, HI (M), (Retd) applauded the efforts of NUST for having achieved such a great milestone as the solution by NUST has been approved in the international market by adhering to Good Manufacturing Practices (GMP) and also conforming to regulatory requirements of Drug Regulatory Authority of Pakistan (DRAP) and Medical Health Regulatory Authority (MHRA), United Kingdom (for its both ISO 13485 Certification and Product registration/ISO and DRAP Certification).

MDDC will continue to work on and develop such technologies, designed to help physicians improve patient care and ensure better health outcomes. This will be a trend setting initiative in a country like Pakistan so that other industrial groups operating in Pakistan will follow the same trail and revolutionize the medical device industry in this country.
NUST Holds a Youth Dialogue on Generation Equality – Realizing Woment's Rights for an equal future.

A seminar on Generation Equality, the 5th goal of the UN Sustainable Development Goals, was held at the National University of Sciences and Technology. The seminar's focus was on the year 2020 being the year of gender equality, the year of enabling women to influence the decisions about their future, and how empowering women can contribute in social development initiatives, and policy-making generates benefits that affect not only women and their communities, but also the society as a whole.

Pakistan currently has 64% of its population under the age of 30 years who has a vision of revolutionizing and modernizing the methods of development in order to produce substantial results, far sighted enough to break the shackles of the societal norms based on patriarchy and working towards achieving equality and thinking out of the-box solutions through the lens of innovation.

A number of notable panelists graced the event such as, Mr. Mohammad Naciri the Regional Director of UN Women for Asia and the Pacific has extensive experience in the region and in gender and development issues in the Middle East, Ms. Uzma Kardar, a Pakistani Politician who is serving as a member of the Provincial Assembly who has moved women protection bills in the parliament , Ms. Maya Zaman, Pakistan's first transgender designer who is making her mark and represent her community, with the release of her first luxury ready-to-wear clothing line branded as, Surkhaabi and lastly Ms. Aqsa Ajmal, an alumnus from NUST School of Art, Design and Architecture (SADA) who was selected as one of the six finalists for the Lexus Design Award from around the world for her phenomenal project titled 'Pursewit', a sewing machine exclusively designed for visually impaired people with low-income backgrounds.

The seminar discussed the following:
Regional taboos hampering the generation equality and what the society needs to do in order to overcome these taboos
The steps needed to end Child Marriages as Pakistan's current law sets the legal marriage age at 16 for girls and 18 for boys, setting different, and thereby discriminatory, marriage ages for girls and boys.
Basic rights attained by the transgender community including the ability to choose their own gender after passage of the Transgender Persons (Protection of Rights) Bill 2017 by the parliament.
Entrepreneurial success of transgender and related societal factors that affect the success
The participants commended the efforts of NUST as an SDG engaged university and for not only bringing such issues to light on an international forum but also to find solutions for women to fulfill their potential in a society that is greatly influenced by gender. NUST with their SDG's plan is embarked on a journey of advocating for those denied of equality to ensure societal welfare.
For the first time in Pakistan, Friends of Paraplegics (FOP), in collaboration with the Embassy of Germany and National University of Sciences & Technology (NUST), launched the "Accessible Pakistan Application" at the university's main campus on 9th March, 2020. The application draws upon a unique concept that focuses on the social integration of Persons with Disabilities (PWDs) and senior citizens, by highlighting the universal accessibility standards and building by-laws. Supported under the Micro Project Scheme of the Federal Republic of Germany, the Accessible Pakistan Application helps in the online identification of accessible spots/services for Person with Disabilities (PWDs) and old-aged citizens, through Android & IOS applications and website.

In addition to a large number of students and faculty, prominent dignitaries attending the launch included Ms. Romina Khurshid Alam, MNA, and member of SDGs task force, Dr. Palitha Mahipala, WHO Representative in Pakistan, Ms. Annika Wistrach, Representative of German Embassy and Mr.Irfan-ullah General Secretary, Friends of Paraplegics.

Ms. Romina Khurshid Alam praised Accessible Pakistan as a leading initiative to provide information about places with assistive devices and assistive facilities all across Pakistan for inclusion of the disabled. She also mentioned that it will contribute towards ensuring a fully all-encompassing environment that supports PWD, elderly people, pregnant women and women with baby carts, and emphasized that skills based education is the key to fight physical disability and emphasized on including health and physical education in the curriculum. Mr. Palitha Mahipala briefed the audience about the role of WHO in striving for the rights of people with physical impairments nationally as well as globally. Mr Irfanullah updated the audience about the specification of the app, particularly highlighting the additional features of "on-the-spot location suggestion" to help users suggest an accessible place, thus enabling users to share their experience and ensure accessibility under building codes with the help of local authorities.
FINDING INNOVATIVE & CREATIVE SOLUTIONS FOR SOCIETY (FICS) 2020

(FICS) is a flagship program of the National University of Sciences & Technology (NUST) that encourages Undergraduate and Postgraduate students to devise technology-based solutions focusing on social problems.  In line with NUST's mission to promote innovation, entrepreneurship, and commercialization, FICS as a concept, aligns well with the United Nations Sustainable Development Goals (SDGs).  FICS 2020 was officially launched in Oct 2019.

FICS goes back to 2013 when it started in the NUST School of Electrical Engineering & Computer Science (SEECS). From there, it has come a long way to where it stands today, an intra NUST program spread over 6 campuses and 18 constituent Schools, Colleges and Institutes. A three stage program, FICS is very closely aligned with the United Nations Sustainable Development Goals (SDGs) where the projects submitted were categorized according to the university-relevant 15 SDGs. In Stage 1 (Online Idea Submission), FICS Program received 231 innovative projects from 14 Schools, Colleges & Institutes of NUST that includes, PNEC, CEME, MCE, MCS, NBS, S3H, RCMS, SEECS, SCEE, USPCAS-E, ASAB, SCME, SNS and SMME, in 15 SDGs, out of 17. FICS competition comprises 3 stages.
In Stage 1, student teams submit project synopsis of their unique ideas with positive social impact. Subsequently, the ideas shortlisted in Stage 1 make it to the next stage.
In Stage 2the student teams present their ideas to a wider audience in the form of PowerPoint presentation. The judges at this stage include Industry Partners and NUST Alumni; they assess the impact and practicability of the project ideas, and ability to be commercialized.
In the 3rd and Final Stageof the competition, the teams shortlisted in Stage 2 present working prototypes of their solution (alternatively, students can display plant design, equipment design, product design or process design). The judges evaluate the prototypes on various parameters and select the best projects, which are given cash prizes (depending on the projects presented at Stage 3).

Before the culmination of Stage 1, 06x Idea Generation Sessions were organized for prospective FICS participants. The objective of these interactive sessions was to invite top professionals from the Industry to give a motivational talk to the students; urge them to come forward and participate wholeheartedly; and also identify pertinent social issues where a student can devise some technical solution to address any particular problem(s).
146 project ideas were further qualified for FICS'20 Stage 2 exclusive events held in each School & College during Feb-Mar 2020 timeframe. Out of 146, 105 teams presented their project ideas to a panel of 48 Industry & Alumni Judges.  In total 53 project teams have been selected in 14 SDGs for the 3rd and final Stage of FICS 2020. Each team will demonstrate the prototype of their technology-based innovative solution to the Industry Judges during the final stage of the program. It is also very pertinent to mention here that so far 46 IPs have been filed which is a huge landmark this year.

FICS has been fortunate to get patronage for SDG categories from a diverse set of industries, in addition to the Prototype Development Fund sponsored by the National Radio Telecommunication Corporation (NRTC). FICS'20 Sponsors and Partners, includes National Radio Telecommunication Company (NRTC), Askari Welfare Trust (AWT), Reenergia Enhar Pakistan, Arkitech, Rastgar Engineering Pvt. Ltd., Alfoze Technologies Pvt Ltd and Graana Pvt Ltd.

The program enjoys tremendous support from Industry in generating projects, providing mentorship to student teams, supporting the commercialization of solutions, and providing funding for the program. All these efforts are consolidated to provide a complete ecosystem for the students and faculty, with an ultimate aim of solutions deployment and development of social enterprises.

FICS, since its first edition a few years back, has been keeping with the legacy of being the home for the evolvement of the work being done on the SDGs within NUST. FICS as the years have gone by has become even more inclusive and competitive. This does not only underscore the quantitative as well as qualitative growth of the programme, but also bear testimony to the growing cooperation between cross-functional disciplines. FICS projects, have also been getting headlines, both nationally and internationally, for their novelty and impeccability. There are a number of success stories, which have emanated from FICS and surmounted national and international competitions, thus adding numerous feathers to NUST's cap.

Keeping the strategic framework of SDGs as the guiding force for FICS, we at NUST hope that FICS and its outcomes, in the form of high-social-impact technological products and services, will eventually contribute to socioeconomic development at a national level, by bringing together the four important elements of the quadruple helix model, namely Academia, Industry, Government, and Society.
Roundtable Conference on Legal and Socio-Cultural Discourse on Human Migration

GLOBAL EXCHANGE CONFERENCE BY AIESEC NUST CHAPTER!

AIESEC-Pakistan

NUST Chapter, in collaboration with the NUST Placement Office (NPO), organised the "Global Exchange Conference 19" at the Jinnah Auditorium, NUST, H-12, Islamabad on September 14, 2019.

The conference centred around cross-cultural exchange. It hosted more than 800 students from NUST and other universities of Islamabad, as well as industry representatives. GEC19 focused on the subject of embracing diversity, and also raised awareness about the United Nations Sustainable Development Goals (SDGs). Additionally, the conference addressed prevalent social issues like gender equality, inter-faith harmony and social acceptance. The honourable speakers included Mr Faisal Javaid Khan (Senator), Ms Masarrat Misbah (philanthropist, business tycoon and cosmetologist), Mr Usman Khilji (social activist), Mr Patrick Sohail (Chirstian community pro activist), Ms Ayesha Mughal (Pakistan's first transgender lecturer), Mr Muzamil Hasan Zaidi (Digital marketeer and influencer) and Ms Hareem Farooq (TV and film artist).

At the end of the conference, Pro-Rector Research, innovation & Commercialization (RIC) NUST, Dr Nassar Ikram appreciated the initiative taken by AIESEC Islamabad Chapter in arranging the event.

CIPS and Hanns Seidel Foundation (HSF) jointly convened a roundtable titled, "Legal and Socio-cultural Discourse on Human Migration" at NUST's main campus. The overarching aim was to produce recommendations for policy framework that contributes in devising Pakistan's migration management strategies. Davide Terzi, Chief of Mission, International Organization for Migration, Pakistan, graced the occasion with his presence as the keynote speaker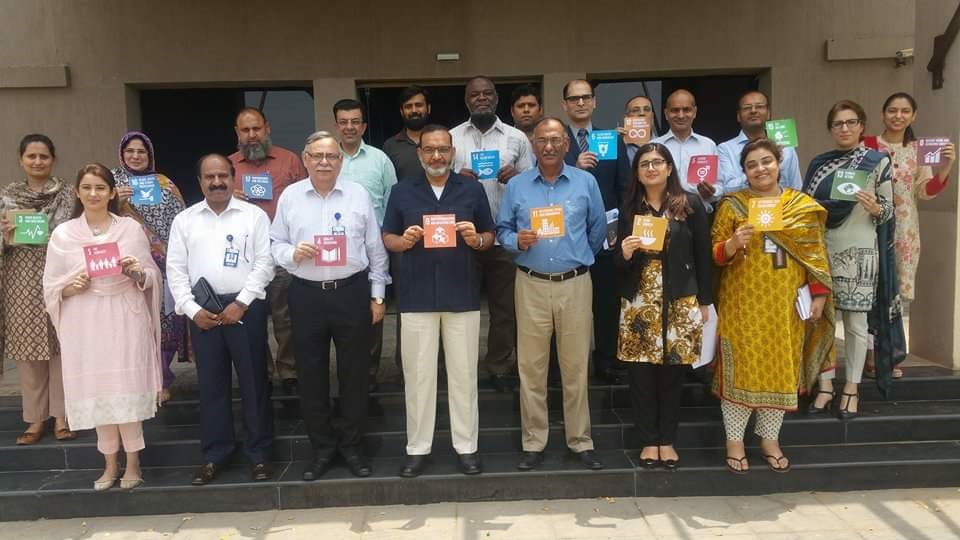 1st Session on NUST SDGs Alignment Plan with internal Stakeholders 2019

Pakistan is one of the initial signatories of Sustainable Development Goals (2015), Being a globally recognized institutes of Pakistan, NUST is playing its role by implementing these SDGs one by one. For the same purpose initiation of SDGs alignment at NUST, started in April, 2018. NUST gained international membership and impact ranking 2019 in Dec, 2018. First internal session held on 31st July, 2019 for Assigning of respective SDGs KPIs, and Briefing on using SDGs portal.
NUST HOLDS WATER AWARENESS WALK 2019
Against the backdrop of worsening water crisis in Pakistan and prompted by the potential threat of turning into a water scarce country, National University of Sciences & Technology (NUST) has embarked on a robust countrywide campaign to raise awareness on water conservation among the general masses. As the saying goes, "charity begins at home," NUST kicked off the massive campaign, starting with an intra NUST drive, wherein students, faculty and staff were educated about the imminent threats of water scarcity and the urgency both for individual and collective efforts to convert this disastrous situation into an opportunity.

NUST has already advanced to the second tier of its campaign, which aims to awake common people to the looming water crisis. In this context, NUST organised a "Water Conservation Walk" which started from 9th Avenue signal on the Jinnah Avenue and culminated near main F-10 roundabout. An overwhelming number of students, faculty and people from different walks of life participated in the water friendly walk. They were holding placards and banners inscribed with "Pani bachana hamara qoumi fareeza hai!" (water conservation is our national duty), "Pani k istemal or zian mein farq janiay!" (Understand the difference between use & misuse of water), etc. Water Awareness Stalls were installed at various frequently visited spots in Islamabad, including Blue Area, F-7 and F-10 Markaz.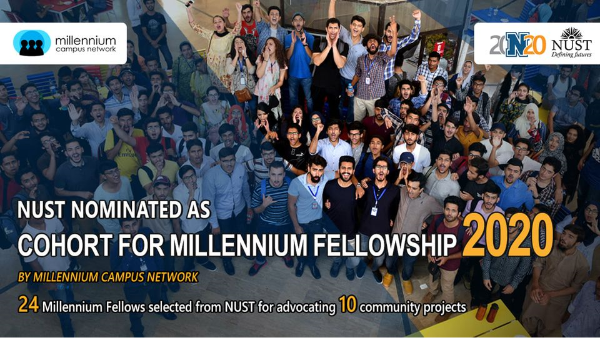 NUST Nominated as Cohort For Millennium Fellowship 2020

Out of 1400 campuses across 135 countries, NUST is one of
the 80 nominated Cohorts for Millennium Fellowship 2020 to host 1,000+
Millennium Fellows this year. Millennium Fellowship, a joint program of United
Nations Academic Impact (UNAI) and Millennium Campus Network (MCN), a
Boston-based global non-profit convening and training social impact leaders,
aims to help young leaders find their voice and own their power for social
impact on campus and in the community.

The Millennium Fellows selected from NUST are currently
advocating community service projects including Break the Barriers, Fem Power,
Grow with Hope, Namood e Subah, Sahara , Uraan, Spark Career, Dream Sober,
Sargodha Youth Peace, and Street School.

NUST also was among the top applicants in terms of the
highest number of applications received from a single campus in the Asia
region.

The Millennium Fellows will attend training sessions arranged by MCN, be the part of international virtual global events, advocate for the causes/community service projects committed to SDGs localisation, and building communities. At the end of the Fellowship in November 2020, the Fellows will receive certificates of recognition from MCN and UNAI.

This is a tremendous achievement for NUST, harbouring international recognition for contribution towards SDGs localisation and societal impact, as UNAI will be engaged in publicising the Fellowship Programme through its global network.
NUST Ranked#1 in Pakistan in Four SDGs

NUST is a pioneer in Pakistan in aligning its core functions like academics, research & innovation, operations & governance, and collaborations with stakeholders, with the United Nations Sustainable Development Goals (UN SDGs) – thus becoming a truly SDG-engaged university. The Times Higher Education (THE) Impact Rankings 2020, that assess universities' impact on society, have recognised our efforts in this domain – NUST has conspicuously surfaced in all 17 SDGs in the 2020 rankings, moving up from the 300+ slot worldwide in 2019 to the 200+ slot in 2020. At the national level, NUST has been ranked 1st in 4 SDGs and 2nd in 7 SDGs.
NUST Ranked#2 in Pakistan in Seven SDGs

Detailed SDG-wise rankings place NUST among the top 100 world universities in 2 SDGs i.e. SDG 4- QUALITY EDUCATION (positioned at #70) and SDG 12-RESPONSIBLE CONSUMPTION & PRODUCTION (positioned at #78). They place NUST among the top 200 world universities in 4 SDGs, and top 300 world universities in 6 SDGs.
NUST nominated as cohort for Millennium Fellows for 2019 competition and Research

The curtain is raised – here we are! The biggest news in the tech world is revealed! Pakistan's first Science & Technology Park #STP is all set to be inaugurated by the country's premier H.E. Imran Khan!
An initiative of #NUST, and in line with the vision of our #Prime Minister, the National Science & Technology Park is here to play its role in strengthening the national economy. It all starts on the 9th of December, 2019.

#NSTP is located at the heart of Pakistan's beautiful capital #Islamabad, housed at the country's no. 1 #Engineering and #Technology university, that carries the strength of a vast and cohesive research ecosystem. It is the most attractive location in the country to bring your research, development and innovation endeavors to. More than 40 companies – #startups, #SMEs, and tech giants, have come together, and this is just the beginning.

Remember the 9th of December – the countdown has begun, to the date that will go down in history as the launch of the country's largest innovation ecosystem! Mark your calendars, and stay tuned!

#DefiningInnovation #InnovatePakistan #WhereItAllBegins
The University impact rankings 2019. NUST participated in 4 UN Sustainable Development Goals

The IEEE Islamabad Section, Antennas & Propagation Society (APS), Microwave Theory & Techniques Society (MTTS) and the Electromagnetic Compatibility Society (EMCS), have jointly organised a 2-day workshop at Research Centre for Microwave and Millimeter-Wave Studies (RIMMS), NUST H-12 Campus on November 26-27 2019, from 09:30 AM to 04:30 PM. The workshop is a continuation of a special distinguished lecture series. Previous IEEE International Workshop on RF & Microwave exclusively focused on antenna design challenges for automated and connected driving, energy efficient future wireless communication and engineering applications of electromagnetism.
Prof Fan Yang (Tsinghua University, China), Prof Matthias A. Hein (TU Ilmenau, Germany) and Prof Nuno Borges Carvalho (Universidade de Aveiro, Portugal) will be the keynote speakers at the workshop.
Faculty, students & industry representatives are invited join the workshop. The entry to the workshop is free. Refreshments will also be served at the workshop. A certificate of participation will be given to all participants of the workshop.

For further details visit:http://rimms.nust.edu.pk/mtt
The University impact rankings 2019. NUST participated in 4 UN Sustainable Development Goals

NUST is one of the leading Pakistani universities which has embarked upon becoming SDGs-engaged University
and has thus incorporated SDGs across its major four domains: Academics, Research, and Innovation,
Operations and Governance and internal and external collaborations. The UN SDGs is a universal, comprehensive, and inclusive framework for development which addresses
the needs of all forms of life existing on this planet. With 17 goals, 169 targets, and 232 indicators
included in the Development Agenda 2030, UN SDGs provide an elaborate master plan for all the organizations to adopt sustainability
as the key element in their long-term strategy.
The University impact rankings 2019. NUST participated in 4 UN Sustainable Development Goals

NUST is one of the leading Pakistani universities which has embarked upon becoming SDGs-engaged University
and has thus incorporated SDGs across its major four domains: Academics, Research, and Innovation,
Operations and Governance and internal and external collaborations. The UN SDGs is a universal, comprehensive, and inclusive framework for development which addresses
the needs of all forms of life existing on this planet. With 17 goals, 169 targets, and 232 indicators
included in the Development Agenda 2030, UN SDGs provide an elaborate master plan for all the organizations to adopt sustainability
as the key element in their long-term strategy.
Two-Day Workshop on Solar PV Performance and Design

Calling all energy enthusiasts! Technology Center at U.S Pakistan Center for Advanced Studies in Energy (USPCAS-E), NUST is organising a two-day workshop on Solar PV Performance & Design. The aim of this workshop is to provide an opportunity to energy enthusiasts, students and professionals a chance to enhance their knowledge of PV system configuration, components and safety; along with hands-on training. The participants will also develop deeper understanding of various PV tools being used in the global industry for designing and sizing like PVSyst, SAM and RETScreen.
Start Date 
1/22/2020
End Date 
1/23/2020
Venue 
USPCAS-E NUST
Registration Fee:
PKR 10,000 per person
25% for NUST students, faculty and staff
Special Discount for group participants

Registration Deadline: January 17, 2020
To register, email at fariha@uspcase.nust.edu.pk
For further information, visit: http://bit.ly/SolarPVWorkshop
Contact: 051 90855268