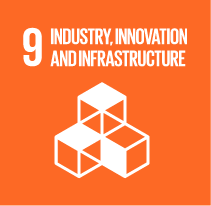 74 Research Projects | 967 Publications | 379  Patents | 53 IPRs Licensed
Faculty Placement Program
2018-2020: 21 faculty members, 11 Industries, 342 Industrial Research Projects Secured
NUST placed 21 faculty members in 11 industries from 14 institutions for two weeks during the summer
breaks, under its Faculty Placement Program during 2018-2020. The program enabled NUST to secure
48 internships, job positions and 14 professional trainings. On reciprocal basis, two members from each industry visited NUST for three days  that resulted in furthering relationship with  these industries. For the years 2018-2020, 342  projects focusing on industrial needs, were  secured from industries to be considered as  Final Year Projects.
Industry-Academia Linkages
800+ Industrial Partnerships, 53 Technologies licensed to Industry, 100+ Industrial Consultancies/ 40+ Joint Research projects with Industry
At NUST, we strongly believe in knowledge transfer and open innovation to meet industrial  needs. NUST has formulated an integrated,  interdependent ecosystem that helps in  establishing and consolidating industry-academia  linkages and subsequently in commercializing  research. The parts of this eco-system are:
Corporate Advisory Council (CAC)
National Science & Technology Park (NSTP)
Directorate of Research
Intellectual Property Office (IPO)
Technology Transfer Office (TTO)
Professional Development Centre (PDC)
Industrial Liaison Office (ILO)
All of the above organs play a key role in establishing collaborations with industry and  bridging the gaps between industrial needs and academic research
National Engineering Robotic Contest:
15 years, 1600+ Teams from all over Pakistan, 7000+ Students' Participation
College of Electrical and Mechanical Engineering (E&ME) is one of the leading  constituent colleges of National University of  Sciences and Technology (NUST). Department  of Mechatronics at NUST, College of E&ME has  been organizing this event for the last 15 years.  The contest provides a great learning  opportunity and exposure, assists in capacity  building of youth, girls and students from all  over Pakistan, even from remote areas, to learn  about advance fields of Robotics and  automation. So far, the contest has been able to  attract talent from all over Pakistan and  provided a platform to showcase their talent, including areas like Swat, Balochistan and  Interior Sindh.
A nominal fee is charged for participation, and all the funds for the event are arranged by NUST, with partial funding by supporting  organizations and industries.
Finding Innovative & Creative Solutions for Society (FICS)
2014-20: No. of Ideas Submitted: 1370+, No. of successful startups: 28
NUST strongly believes in inculcating the spirit of entrepreneurship and innovation among students to
tackle modern-day challenges head-on. Finding Innovative & Creative Solutions for Society (FICS) is an
annual competition hosted by NUST in which students from around the country present their ideas and
prototypes for funding and commercialization. This initiative aims to instill a spirit of social  entrepreneurship amongst students,  encouraging them to convert their creative ideas into value-adding solutions and thereby benefit  themselves and society. The three-stage  competition spans over two months in which  projects are examined by industry leaders,  innovators, and investors.
Some of the objectives of FICS are given below:
To encourage students to become valuable members of society and contribute to  societal / community development by  deploying technical knowledge and  scientific tools.
To allow students to think creatively and  develop the latest applications and  innovative technology based-solutions,  hence encouraging them to work on  practical utilization of knowledge.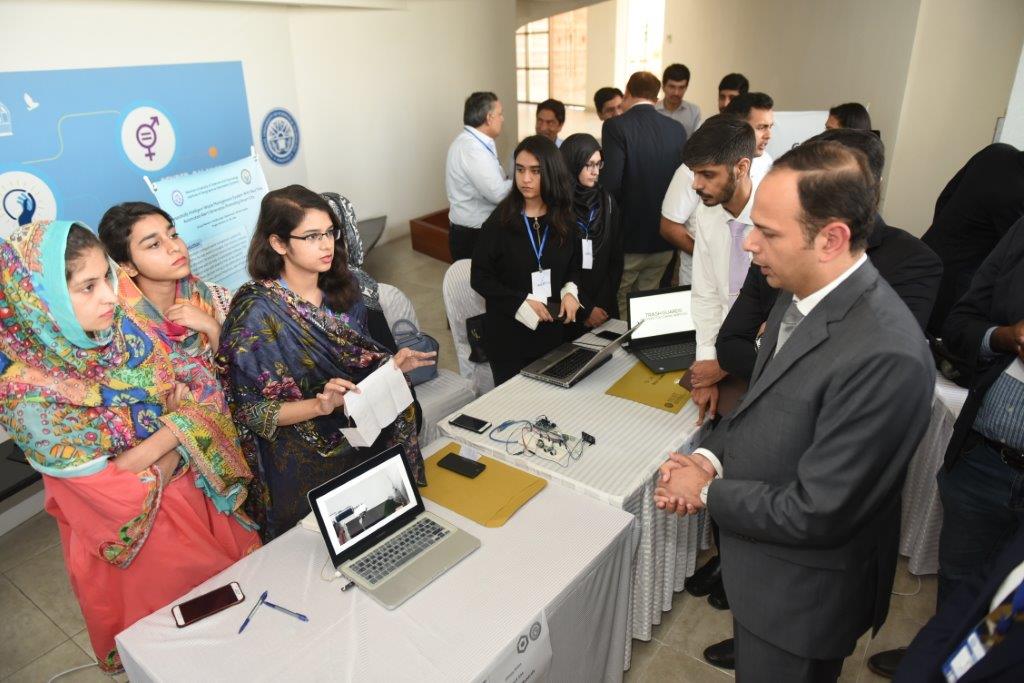 NUST Signs MoU with Textile Testing International (TTI Labs)
NUST and Textile Testing International (TTI) signed a Memorandum of Understanding (MoU) to enhance cooperation between the two organisations, at the TTI premises in Lahore. Dr Nassar Ikram, Pro-Rector Research Innovation  & Commercialisation (RIC) NUST and Mr  Hameed K Latif, CEO TTI Labs, signed the MoU on behalf of their respective organisations. The MoU aims at increasing collaboration between  NUST and TTI in areas including faculty  placement, jobs and internships, professional  trainings and joint research leading to  technology transfer.
NUST introduces first university-based cloud service
Organisations around the world continue to depend greatly on cloud computing for optimal business operations. For the modern needs of public and private sector, corporate businesses  as well as the educational sector; a successful  cloud computing service needs unparalleled  features of resource pooling, on-demand self- service, easy maintenance, large network access, availability, automatic monitoring and control,  and reliable security.
Committed to excellence in these qualities; NUST has launched NUSTCLOUD; Pakistan's  first university-hosted client-focused service  offering broadbased experience with affordable,  customizable packages. The service is designed  to best suit large and small businesses, startups,  educational institutions, and public sector  organizations.
NUST Formula Student Team participated in Formula Student UK Virtual 2020
NUST Formula Student Team participated in "Formula Student UK Virtual 2020" and  attained remarkable achievements by securing  3rd position in Design, 3rd position in  Acceleration, 9th position in Skid pad, 10th  position in Cost and an Overall 7th position,  which has been a remarkable achievement for  any team from Pakistan in Formula Student.
International Webinar on the role of S&T for National Progress, Growth and  Competitiveness held at NUST
The existence of a comprehensive S&T-based  apparatus is a crucial determinant of long-run  growth, economic independency, and the  competitive edge of a state. A highly globalized  contemporary world environment necessitates  the adoption of S&T and innovation-oriented  strategies for rapid growth in relevant output  measures. Accordingly, with a view to determining answers as to how Pakistan can  advance its domestic S&T infrastructure, capitalize on existing opportunities and acquire competitive advantages, the NUST Institute of  Policy Studies (NIPS), the think tank of NUST  which is a leading national policy research and  advocacy forum, organized an international  webinar on the "Role of Science & Technology for National Progress, Growth and Competitiveness,". The virtual event was chaired by Lt. Gen Naweed Zaman, HI (M), (Retd),  Rector NUST & Patron NIPS. The resource  persons of the webinar were Dr Malcolm Parry,  CEO Surrey Research Park, United Kingdom; Dr Kang Dachen, Professor at Institute of Policy &  Management, Chinese Academy of Sciences  (CAS); and Dr Masoom Yasinzai, Rector International Islamic University Islamabad  (IIUI). The webinar was moderated by Dr  Nassar Ikram, Pro-Rector Research, Innovation  & Commercialization (RIC), NUST & Vice  President National Science & Technology Park (NSTP) at NUST.
NUST Holds National Seminar on Knowledge Economy- The Path to Speedy and High-Quality Growth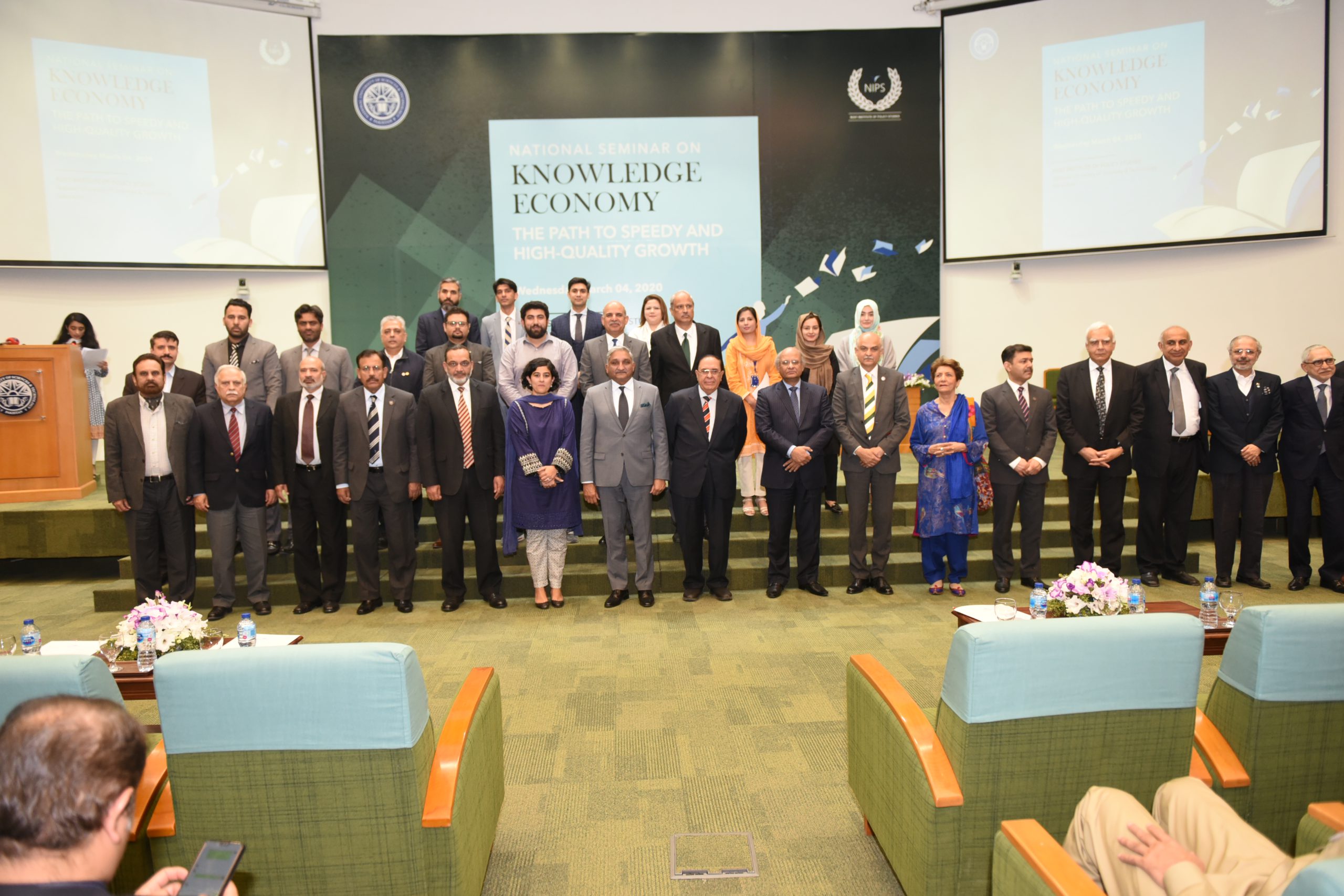 Knowledge has always been the core component of any country's vision and policies for comprehensive progress. The contemporary era is, however, witnessing an unprecedented speed of the phenomenon, making knowledge an even more essential constituent in rapid economic development, characterized by close linkages between innovative evolution and considered investments in R&D and education. In the  context of greater emphasis being placed in  Pakistan on developing a strong knowledge  economy, the NUST Institute of Policy Studies  (NIPS), the university-based think tank,  organised a high-level national seminar on  "Knowledge Economy: The Path to Speedy and High-Quality Growth," at the university's main  campus on 4th March, 2020. Mr Asad Umar,  Federal Minister for Planning Development &  Special Initiatives, shared his valued assessments on operationalizing the Quadruple Helix Model of innovation for knowledge economy: moving up the value chain from infrastructure-led to innovation-led  development. He exhorted academics and  researchers to align knowledge creation and  innovation with real world problems, and  stressed the need for building indigenous  capabilities in terms of technological advancement and human resource development, so as to reduce and eventually  eliminate foreign dependency. Advisor to the PM on Digital Pakistan Initiative, Ms Tania Aidrus, elaborated  on her vision of "Fostering Digital Pakistan  Vision as a Powerful Initiative for the  Development of Knowledge Economy."
Chairman PM Taskforce on Knowledge Economy, Dr Atta-ur-Rahman, presented  salient prospects of "Leveraging Science &  Technology for Building National Innovation  Systems in the 21st Century and the Roadmap to kickstarting Knowledge Economy." Chairman  HEC, Dr Tariq Banuri, talked about "The role of  HEC towards National Development and  Growth" and shared his thoughts on  transforming this sector to embrace innovation- led development and accelerate knowledge- based economy.
Other distinguished speakers  that included Chairman Kohinoor-Maple Leaf  Group Mr Tariq Saeed Saigol, and CEO PIMatic  Mr Ameer Hassan, delivered talks on  "Overcoming the Challenges of Industrial  Upgradation in Pakistan to Transform it to Knowledge Economy" and "A Case Study on Successful Startup – A Model for Innovation  and Entrepreneurship," respectively.
An overall  consensus was achieved on the establishment of  world-class centers of learning, policy reforms  directed at strengthening the research base, and  formation of a national hitech culture that  creates, disseminates, and uses knowledge to  enhance Pakistan's sustained growth and development.
The event was attended by a large  number of senior government officials,  policymakers, higher education leaders,  academic experts, eminent industrialists and  corporate personalities, public and private  innovation managers, think tank specialists,  entrepreneurs, scholars, and students.
NUST alumna designs world's first eco-friendly aircraft engine
Dr Sarah Qureshi, an alumna of the NUST College of Electrical and Mechanical Engineering (CEME), has made headlines with her breakthrough invention in Aerospace Engineering, by building the world's first eco- friendly aircraft engine – this engine will help  reduce air pollution that is caused by the  "contrail phenomenon" – condensation trails  from commercial aircraft engines, that have a  major role in global warming. Dr Sarah, who has the honour of being the first female Mechanical Engineering graduate of NUST (class of 2001),  grew up under the mentorship of highly  accomplished parents – her mother a PhD in  Quantum Chemistry, and her father a renowned  Physicist and Scientist. Her project,  on which she has been working for the last two  years, is now set to be officially launched by end  of 2021. It is worth mentioning that Dr Sarah  completed the major portion of her project in  Pakistan, under the supervision and support of  her father, who acted as an external supervisor  for her invention that was granted 2 international patents. During her PhD at Cranfield, she developed the entire engineering model for the project. Dr Sarah is a living proof  of the exceptional talent and dynamism that  Pakistanis, specifically Pakistani women,  possess, and how they strive to serve society  through their innovations.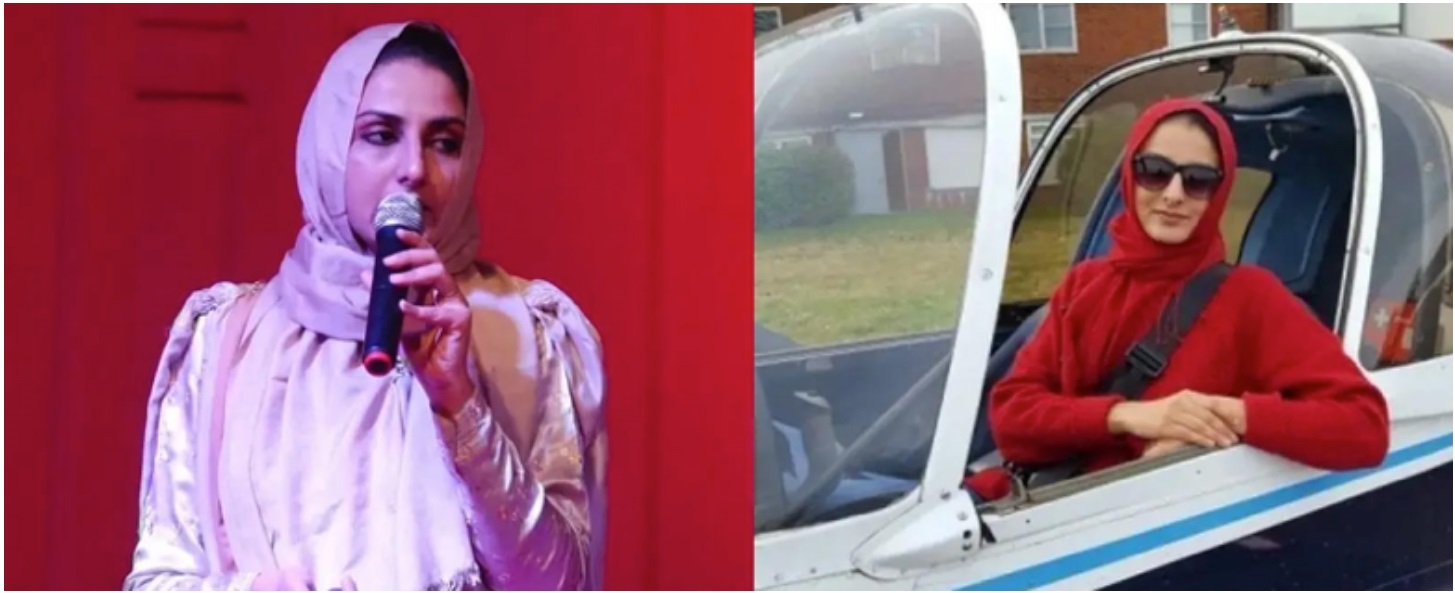 NUST STUDENTS IN HEADLINES
Microsoft Imagine Cup: Team Flowlines from NUST SEECS win the national round
Microsoft Imagine Cup is a premier international event about product ideas and  software development. Team "Flowlines" from  NUST School of Electrical Engineering and  Computer Science (SEECS) won the national  round of Microsoft Imagine Cup 2020 in Feb,  2020. The winning project from NUST was a  collaborative mobile app, where users can draw images and write text in the air, which can be  seen by anyone, through augmented reality  technology. Another project from NUST,  "Canvas insight" was declared the runner up at  the regional level. The award ceremony was held at Pakistan China Friendship Centre, Islamabad, on February 19, 2020. The occasion was graced  by eminent guests including Federal Minister  for Education Mr Shafqat Mahmood, Digital Pakistan's incharge Ms. Tania Aidrus and  Chairman Higher Education Commission,  Pakistan Dr Tariq Banuri.
The winning team was short-lsted to the next round of Microsoft Imagine Cup in Amsterdam,  Netherlands to compete against the teams from  Europe, the Middle East and Africa (EMEA).
Students from NUST SEECS win the Pakistan Science Fair Award
Students from NUST School of Electrical Engineering and Computer Science (SEECS)  won the Pakistan Science Fair Award 2020  organised by Ulster University, United  Kingdom. The award ceremony took place at  Serena Hotel, Islamabad, on January 28, 2020.  The Pakistan Science Fair Award 2020 is a  collaborative project between Ulster University,  UK and Pakistan's leading universities; NUST,  Air University, Bahria University, and FAST  NUCES. This competition provided an  opportunity for students to showcase their  talent, as well as continue their studies with  Ulster University.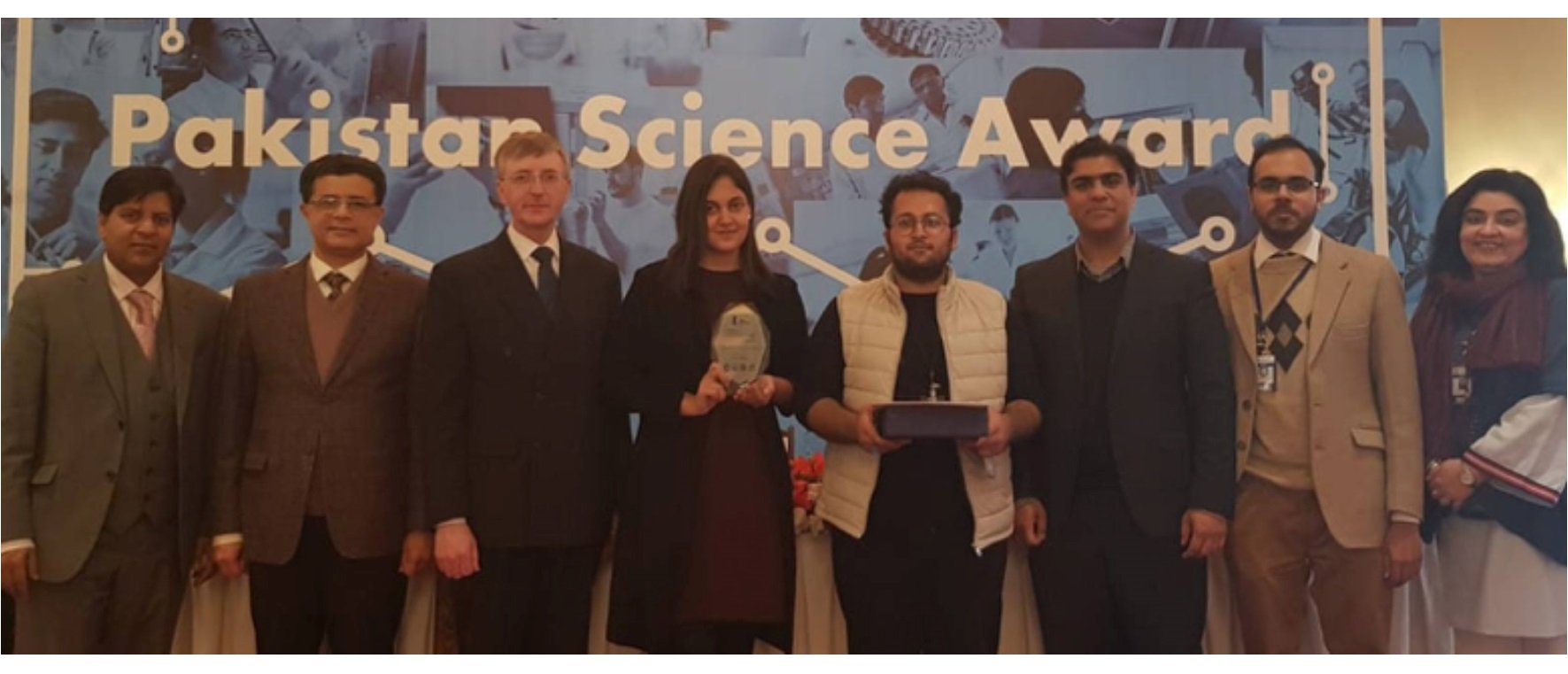 The title of the winning poster by Noor was "FLOWLINES: Tackling Body Image Issues  using AI-Based Autodraw Art in AR", and the  title of Kamran's poster was "Plant Health  Monitoring via Motion Induced Priors."
Students from NUST win PTCL- hackathon
NUST students participated in the virtual Hackathon, held from October to November  2020, aimed at fostering innovation in a  structured scheme of idea evaluation and, in so  doing, accentuating the value of idea-sharing in  a challenging time-bound environment.  Recognizing the team of young enterprising  students from NUST who stood first at the Ideas Hackathon – the first-ever PTCL-hosted  hackathon – an award ceremony was held at the PTCL headquarters. The NUST team members,  undergraduate students from NUST Business  School NBS and NUST School of Electrical  Engineering & Computer Science SEECS were  conferred medals, certificates and cash prize as  a token of appreciation for their ingenuity and  stupendous performance.