123 Research Projects | 225 Publications | 18 Patents
NUST Placement Ecosystem
637 Recruitment Drives, 17055 Internships
offered, 10217 jobs, 4992 Industries engaged in the last five years, 94% Employment Rate
NUST has a strong ecosystem supporting placements of its students for internship and  jobs for its graduates, through active  engagement with the industry. A large number  of on-campus recruitment drives, industry  sessions, and alumni talk series are conducted  across all schools and campuses. Being a comprehensive university, industries matching  each discipline are selected. NUST has thus  achieved a 93% employment rate as per QS  ranking criteria and ranked as Pakistan's No 1  university in Employers' Reputation, and  ranked at 148 globally, thus improving 93  positions vs. last year.
Preparing Students for Employability
In order to prepare our students for the job  market, we implement custom made career  development programs focusing mainly on  developing employability skills applicable to the  competitive job market. The career development program includes Career Orientation Seminars,
Workshops on Resume Writing, and Workshops on Interviewing Techniques, One-o-One counseling sessions, and Focused Group  Discussions (FGD).
NUST Holds First Job Fair at Multan
30 Industries Engaged
National University of Sciences and Technology (NUST) held its first ever Job Fair in Multan on March 12, 2020, presenting its dynamic  graduates to employers from around the City of Saints, and adjacent towns and cities including Vehari and Rahim Yar Khan. Representatives from over 30 industries showed up at the event held at Multan Industrial Estate, to pick and  choose from amongst soon-to-be graduates in the disciplines of Chemical Engineering, Materials Engineering and Applied Biosciences. Some of the prominent industries included  Khawaja Mineral Industries Ltd, Allahdin  Group of Companies, Life Pharmaceuticals, Servo Motor Oil Ltd, Multan Chemicals, Agrica Group of Companies, Solex Chemicals Ltd and Exin Chemicals Ltd, to name a few. The sectors these firms represented were Chemical,  Pharmaceutical, Pesticides, Agribusiness, Food & Beverages, Light Engineering, Manufacturing, Plastics, Cotton, Biotechnology, etc. The event  was inaugurated by Mr Sheikh Fazal Elahi,  President Multan Chamber of Commerce &  Industries (MCCI), who lauded NUST initiative  of holding the job fair in Multan for the very first time, hoping that the event would become a regular annual feature. General Secretary MCCI Mr Mian Rashid Iqbal, Vice President MCCI Mr Nadeem Ahmed and NUST Pro-Rector esearch, Innovation & Commercialisation (RIC) Dr  Nassar Ikraam were also present at the occasion amongst other distinguished guests from the industry.
Technology Incubation Centre (TechOne)
1500+ jobs created, 102 Start-ups graduated,
70+ Client Startups, 70% Survival Rate
TechOne is the first Technology Incubator of Pakistan established in academia in 2005 by  Pakistan's premier university NUST as a mean  to replicate the concept of incubators in  Pakistan. It provides a conducive environment  for young businesses with all the necessary  facilities, training and venture capital opportunities under one roof.
Prime Minister approves Hi-Tech Special Economic Zone Status for NUST, the first S&T  based SEZ of Pakistan
In a major breakthrough that would give tremendous impetus to Pakistan's economy,  Prime Minister Imran Khan approved High  Tech Special Economic Zone (SEZ) status for  the National University of Sciences &  Technology (NUST). As per the announcement  by Board of Investment (BoI), this approval was granted in the 6th meeting of the Board of  Approvals chaired by the Prime Minister on  October 7, 2020. Through the conferment of  this unprecedented status for any Higher  Education Institution in Pakistan, NUST has  become the only High Tech Special Economic  Zone among the 20 SEZs in the country (the remaining being industrial zones). Through this  landmark development, national and  international high tech businesses as well as  Small & Medium-sized Enterprises (SMEs) shall immensely benefit, thereby accelerating  Pakistan's transition into a thriving Knowledge  Economy.
SEZs provide a number of economic incentives that are a preferred component of thriving  Research and Innovation ecosystems across the  world. Free Trade Zones, Export Processing  Zones, Special Technology and Hi-tech Zones,  etc., around the globe are some of the economic  substructures that have been designed to deliver tax and import stimulants and enhance the germination and development of disruptive  technologies and hi-tech entities.
The first S&T-based SEZ of the country will witness the transformation of the pilot National  Science & Technology Park (NSTP) at NUST  (which was inaugurated by the PM in Dec 2019)  into a full-blown STP with a hosting capacity of  250 industry and R&D partners, becoming the  nation's optimal platform for research and  innovation. National and international  companies working to tap the Fourth Industrial
Revolution will now have the most diametrically complete and perfect ecosystem of the country in the form of the NSTP, thus contributing  towards achieving import substitution and  exports.
NUST holds Roundtable/Webinar on "Pakistan's Tourism Potential"
The NUST Institute of Policy Studies (NIPS) organized a roundtable/ webinar on "Pakistan's  Tourism Potential,'. The event brought to the  fore the crucial propellers of strength and  harmony in the tourism sector of Pakistan. A  distinctive factor was the pursuit of discovering  connections of our local approaches and  experiences with the world-class Turkish ideals of tourism advancement.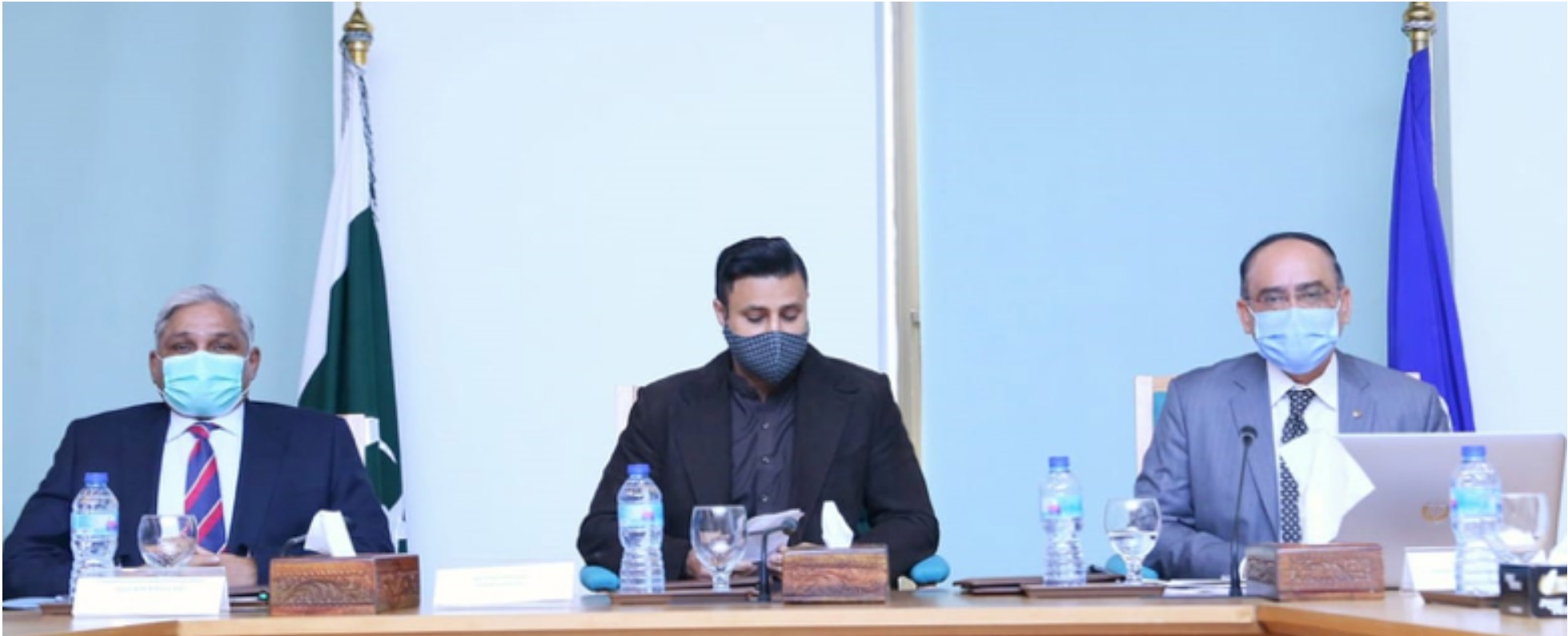 ICAP awards Relevant Degree Awarding Institute (RDAI) Certificate to NUST
NUST Business School (NBS) has been awarded Relevant Degree Awarding Institute (RDAI) Certificate by the Institute of Chartered  Accountants of Pakistan (ICAP). ICAP is a  premier accountancy body that is recognized  internationally and regulates the profession of  Accountancy with worldclass competencies. It  has more than 10,000 members with global  presence and has a list of collaborations and  reciprocal arrangements with several Accountancy bodies around the world. Based on the previous MoU between NUST and ICAP
(2014), BS ACF graduates were given exemption from 8 papers and were required to appear for five more papers before starting professional training and appearing for the third level papers. It merits mention that NBS is one of only two Pakistani Business institutions and the only one in the country's North region to have been awarded the status of RDAI. This milestone will not only help NUST's BS ACF final-year students to start professional training immediately after graduation, but will also benefit ICAP in terms of having finest students of Chartered Accountancy
Millennium Fellowship Project: Uraan
Suffering from the lack of work-study programs/culture in Pakistan, the team of  Uraan, a group of Millennium Fellows, decided  to start a movement which focuses on helping  students find work opportunities, mentoring  them about employability and ntrepreneurship,
and spreading awareness around the need for students to be financially independent. The project aims to:
Build an online community of students who have successful work-study stories
Provide a one-stop platform for finding internships and part-time jobs to high school and university students.
Help at least 15 students find the right  mentors and guidance through the  platform.
Get more organizations on board for  creating work-study opportunities in the  market