Zero Hunger 2020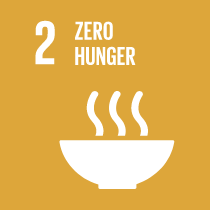 36 Research Projects | 142 Publications | 10 Patents
Bhook
BHOOK is a project by one of the Millennium Fellows of NUST 2019, which aims at eradicating hunger in the bottom of the pyramid (BOP) segments of society, not having the disposable income or purchasing power to get food which is a vital aspect of life. The measurable goals of BHOOK include, but are not limited to: 

Sector-based project implementation to evaluate the number of people served to convert the serving size for a number of meals.
Create and connect with the local business clusters of corporations minimizing the bullwhip effect.
Enhancing female participation in the formal economy through participation in the BHOOK female employment programme.
Non-Government Organizational Partnerships in similar industrial domains to create parallel social impact.

Ramazan Drive in collaboration with Daraz.pk
NUST Community Service Club collaborated with Daraz.pk for a Ramazan ration drive. Volunteers collected funds for distribution of Ramazan ration boxes in collaboration with Daraz.pk. 73 boxes were distributed in Noreen Welfare Trust, an orphanage with 90+ children, and a village in South Bara'kahu, Dhok Mohri near Islamabad. The boxes contained 3 months' dry ration items including rice, flour, dates to fulfill dietary requirements of the whole family.
Cattle Vitals: A Smart System for Silent Heat and Early Disease
Cattle Vitals is a product developed by NUST researchers to intelligently detect the heat signs in buffaloes through sensing pH, conductivity, temperature variation and raised physical activity. These parameters are fed to a decision system algorithm that estimates and predicts the best time for AI and informs the farmer through a smartphone application. Sensor based solution is validated through the lab based heat detection techniques which are available at National Agriculture Research Council (NARC) farm in Islamabad. The proposed project increases the conception rate in buffaloes in Pakistan and hence indirectly contributes in increased milk and meat production. The aim of this project is to automate the process of identification of silent heat, especially in buffalos, with a low cost sensor based solution.

Modeling and assessing the water, energy, and food security in the Indus River basin
This project, by NUST constituent Institute of Environmental Sciences and Engineering (IESE), under the DAAD German Academic Exchange Services, has been conducted to achieve the following objectives:

Human resource development: Training and exchange of international expertise through collaboration and technical training to develop skills in water, food and energy resource management applications with a focus on Indus Basin sub-watersheds.
Provide scientifically sound recommendations for the allocation of water resources using Water Evaluation and Planning System (WEAP). Determine the requirements for a practical management system for allocation of limited water resources between agricultural, municipal and environmental uses as well as evolving situations.
Improve linkages among stakeholders: Tools and mechanisms for collaboration and linkages established among government, nongovernment and academic institutions to respond to water, food and energy coupled challenges more effectively and efficiently.
Solar Powered Temperature and Relative Humidity Monitoring for the Multipurpose Silo Bin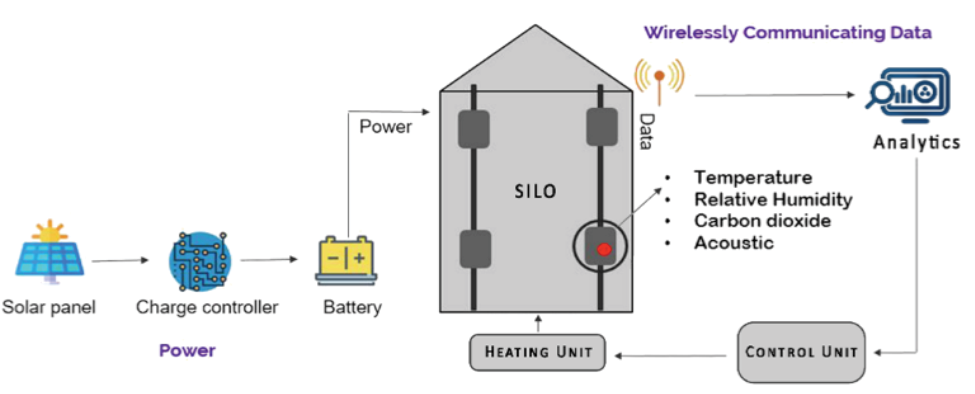 A lot of food losses in Pakistan occur during the supply chain of the food from farm to market. In order to minimize the losses of the food value chain, our researchers have designed a cost effective and economically viable prototype wireless temperature and relative humidity monitoring digital system to monitor temperature and humidity values within a silo and also manage operations of humidifier to control these parameters within the desired range. The ultimate objective is to reduce the post-harvest losses, which will lead to an increase in food availability.
Urban expansion as an Incursive factor for food Security: An Assessment of Spatio-temporal Variations in Punjab province, Pakistan
Punjab province of Pakistan has two major seasonal crops cycles: Rabi and Kharif. The major challenges in the province are related to rapid urbanization which has affected crop production. This project by researchers at NUST constituent Institute of Environmental Sciences and Engineering (IESE) estimates the urban growth rate during 2000-2017 by the derivation of agriculture land change and its potential effects on agriculture food security of Pakistan. This research will help to plan and manage sustainable urban development by avoiding the utilization of vast fertile agriculture lands. This study is not only important to identify the variations in croplands but also other potential issues such as a change in cropping pattern, cropping intensity, forests, vegetation, barren lands, water bodies, urban and industrial settlements, to effectively tackle the challenges prevailing due to the urban growth in Pakistan in context of agriculture sector and food security issues.