Sustainable Cities and Communities
2
No. of Technologies Licensed
Technologies Licensed
NUST Licenses a GIS-Based Land Management System to GIS Plus Total Solutions Pvt Ltd
NUST Innovation & Commercialization (I&C) Dte marks another milestone, as a GIS-based land management system has been licensed to a NUST spinoff, GIS Plus Total Solutions Pvt Ltd. The proposed platform offers an automated society management system based on Geographical Information Systems (GIS), which promises increased efficiency and peace of mind for both managers and the customers. This technology is key in the development of new housing societies and can also be integrated with existing ones to offer residents a better experience with this advanced property management system.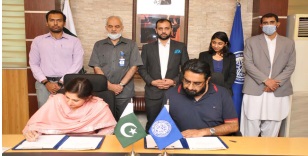 NUST Licensed an AIBased Smart Traffic Monitoring Technology to Synapsify Systems Pvt Ltd
NUST Innovation and Commercialization Directorate (I&C) licensed an AI-based smart traffic monitoring technology to Synapsify Systems Pvt Ltd. Dr Saifullah Awan and Dr Shahzor Ahmad from the Department of Electrical Engineering, College of Electrical & Mechanical Engineering (CEME), explained the importance of detection and accurate classification of vehicles from a security as well as monitoring perspective. The technology has proven potential to ensure safe, smooth, and efficient traffic flow, and ensure the maintenance and sustainability of Pakistan's multi-lane highways, high-speed motorways, and strategic routes.
NUST Signs a Memorandum of Understanding (MoU) with Jaswal Films
NUST shook hands with Jaswal Films, signing a Memorandum of Understanding (MoU) aiming to engage the mass communication students. Jaswal Films has extended its support for philanthropic activities at NUST and offered to provide the students with internship opportunities as well. This partnership is of great significance for our media studies students allowing them to interact with a leading production house of the country for guidance, mentorship, and handson experience in their relevant fields.
FICS Best Project Award 2021
Intellegent Signals: Intelligent traffic signals auto adjust the timings of signals lights according to the flow of traffic and recognize the number plates of the vehicles, record and report the road accidents to the authorities in real time. 
Datatrove: Datatrove is a complete machine learning-based security solution which protect against scanning, Dos and web attacks in real time by engaging the attackers using an efficient honeypot approach.