23 Research Projects | 249 Publications | 17 Patents
NUST Campus facilities
Transport
NUST maintains an organized transportation network within and outside the campus for the  students, staff and residents. NUST has invested in designing Regular Transport Shuttle Service  which is battery operated and environment- friendly vehicles which run throughout the day  within the out the day. NUST has also deployed  a bike-sharing programme, initiated by startups  of NUST students, within Main Campus. Also, a  regular transport network from Gate 10 to  various institutions from 8:30 to 9:30 am.  Coaches are available during the evening shift  for transportation between the Girls Hostels and different institutions, as per pre-defined  schedules.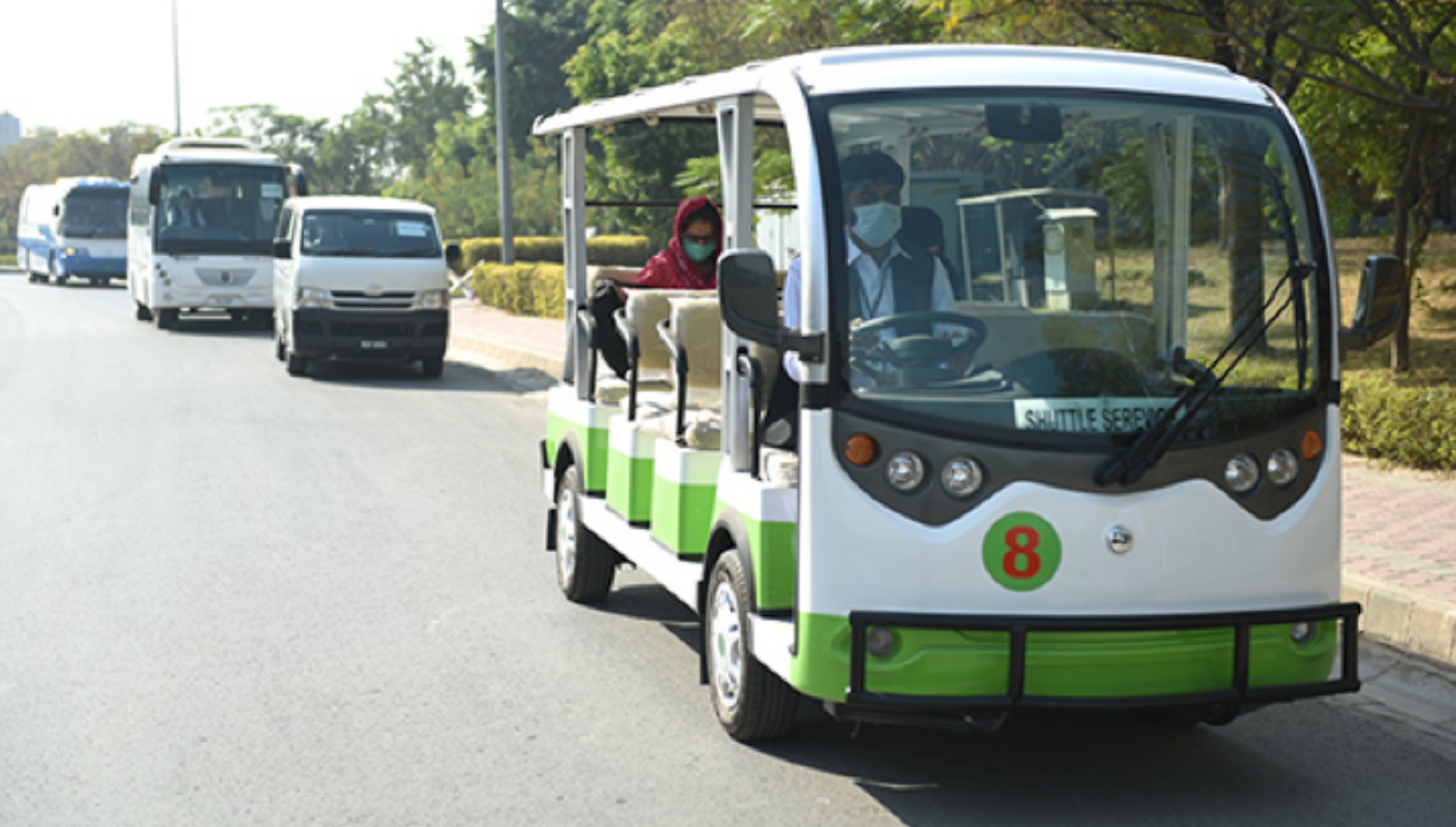 Special Arrangements For occasions such as club  activities, study tours, recreational trips, industrial  visits and interuniversity championships, etc., buses, coaches or vans are  arranged as per requirement, both within and  outside of the city.
Accommodation
 NUST also provides comfortable and affordable on-campus accommodation facilities to its  faculty, students, and employees to enable them  to pursue their academic and career goals  without usual distractions of routine life. The  faculty and employees are provided with serene  and secure on-campus residence, which assists  them in unswervingly execute their professional  responsibilities. The residential areas have  adjacent recreational facilities for adults and  children, like libraries, restaurants and cafes, sports clubs, horse-riding, and swimming pools,  to facilitate a healthy and all-encompassing life  experience on campus.
NUST establishes the Centre for Creative Economy
NUST has established the Centre for Creative Economy CCE, a one-of-its-kind centre,  uniquely positioned at NUST School of Social  Sciences & Humanities S3H. The Centre aims to  promote knowledge-based economic activity in  Pakistan. This unique initiative will be a hub of  innovation and creativity in Pakistan. CCE's  work is divided in creative focus areas including  Design, Traditional Media, Visual & Digital  Media, Arts & Craft, Theater & Performing Arts,  Heritage Documentation & Creative Entrepreneurship, which are targeted to identify develop and transform avenues for practice-led  research and creative product development for  the creative industries in Pakistan. CCE's  mission is to bridge the gap between different creative sectors and promote interdisciplinary  thought process, through Creative Economy  (CE) hub and communities.
As NUST realises the critical importance of creative economy and its potential to contribute  towards the development of Pakistan, CCE will  ensure that through learning, experimentation  and guidance, new ideas can take shape and  transform lives by creating a significant impact.  NUST firmly believes in not only imparting  knowledge, but also creating knowledge and  bringing about meaningful change in society.