Good Health and Wellbeing
NUST Academic Programmes
18,012 current students, 133 academic programs, 19 constituent schools & colleges, 7 campuses in 5 cities, QS Asia University Rankings 2023, NUST ranked 334th in world & 1st in Pakistan
NUST offers top-notch education with a comprehensive curriculum of 30 UG, 61 Masters and 42 Ph.D. programs, offered in 19 different schools and colleges, all over Pakistan. NUST has an enrollment of 18k students and boasts of a competitive pool of 1262 faculty members out of which 50% are Ph.D. qualified. NUST is the top university of Engineering and Technology in Pakistan, and 334th in the world according to QS World University Rankings 2023.
NUST Outreach Programme
Admissions Directorat e conducts awareness sessions (both in online and face to face mode) all over Pakistan in order to reach out prospective candidates and guide them regarding NUST, Undergraduate Admissions Process, NUST Need Based Scholarship (NNBS) program and incentives offered to students during their stay at NUST as well as the market placement opportunities etc. Despite COVID situation in year 2021, this directorate managed to conduct sessions in 16 cities of Pakistan including Faisalabad, Gujranwala, Bahawalpur, Mailsi and Quetta. Out of total 30 institutions, 19 were co-education and 6 were girls' colleges.
Education for Sustainable Development (ESD) at NUST
Aligned with the university's strategic objective of becoming SDGs-engaged, NUST has incorporated Education for Sustainable Development in the mandatory Community Service Course as per the university best  practices from across the globe.
Therefore, through the mandatory Community Service Course (CSL-01), NUST has now
formalized and recognized the Education for Sustainable Development as a mandatory module in the CSL as per the strategic objective of the university to introduce students to basics of the Sustainable Development and inculcate a sense of ownership and responsibility as future
leadership of the country.
A total of 777 courses on sustainability are offered in NUST such as: – Sustainable Design – Material and Construction – Transportation Engineering – Solar Thermal Power Systems – Energy and Climate Change – Environmental Science for Sustainable Development – Cleaner Production Techniques – Ecological Management – Solid and Hazardous Waste Management – Wastewater Treatment and Design – Environmental Health and Safety For facilitating NUST valuable students in their projects, appreciable funds are provided by the Higher Education Commission (HEC) of Pakistan and other local foundations and NonGovernment Organizations such as National Cleaner Production Centre (NCPC), World Wildlife Fund for Nature (WWF) and WaterAid Pakistan (WAP). Out of all the funding provided, more than 30% are accounted for projects on sustainability. Along with funding, partnerships with industries, public sector bodies, and social sectors help to align SDGs implementation strategies across national levels.
Labs and Research Facilities
'NUST has been equipped with state-of-theart labs to facilitate practical knowledge and applied research. There are more than 383 labs for UG programs and 35 key labs for advanced research. NUST also provides on campus cloud infrastructure offering IAAS, SAAS services. Some of the notable research intensive labs include Anechoic Chamber, Image Processing Centre GPU-based Supercomputing, Supersonic Wind Tunnel, Material Characterization Facility at Micro & Nano level, Smart Grids, Robotics & Control Lab, and Neuro-Informatics, etc.
Professional Development Centre
700+ trainings, 18000 personnel trained, 800+ organizations
PDC is imparting high quality continuing education to NUST employees and industry professionals in the fields of Management, Engineering and Information Technology. PDC has conducted so far 700+ industry focused workshops and trained more than 18000 personnel and
made a huge clientele of over 800 organizations. PDC is leveraging upon a rich faculty base of
1200+ members of NUST, including more than 600+ PhDs. PDC is a certified professional engineering body of Pakistan Engineering Council (PEC) responsible for carrying out continued professional development of PEC-registered and professional
engineers. The human resource programs offered at PDC are accredited from HRCI USA. The
prime objective of PDC is to provide access to knowledge, capacity building and continuing
education facility to professionals from all walks of life.
Central Library and Affiliated Libraries
350,000 books/e-books and 80,000 journals/e-journals
A state-of-the-art Central Library has been established in H12 Islamabad Campus along with 17 institutional libraries in different NUST campuses all over Pakistan to house more than 350,000 books/e-books and 80,000 journals/e-journals. This facility is open to NUST students, faculty and staff to promote reading culture, facilitate group studies and conduct training on citation management, information literacy and search management. NUST has continued to revive book-keeping culture as well as upgraded the facility with digital formats like e-books/ e-journals to keep up with the pace of the modern age. The students are facilitated with publications, presentations, and writings in all formats free of cost, thus committing to free access to education for everyone.
NUST Inks a Partnership Agreement with Tufail Group for the NUST Endowment for Educational Development
Students Clubs and Societies
Dedicated office for activities (Students Affairs and Counselling Directorate, 35 students societies, and clubs, 5700+ annual student engagements)
Besides academic excellence, NUST ensures that students also develop literacy, creativity and leadership qualities to tackle global challenges. Therefore,
 NUST has established several societies and clubs for students to provide them with opportunities to pursue their passions and participate in and arrange events under the auspices of a dedicated directorate. The office, Students Affairs Directorate, is responsible for arranging and coordinating co-curricular activities at the campus. The following central clubs and societies are currently operational in NUST:
• NUST Bazm-e- Pakistan (NBP)
 • NUSTAdventure Club (NAC) 
• NUST Environment Club (NEC) 
• NUST Science Society (NSS) 
• NUST Literary Circle (NLC) 
• NUST Book Club (NBC)
 • NUST Community Service Club (NCSC)
 • NUST Dramatic Club (NDC) 
• NUST Debating Society (NDS) 
• NUST Media Club (NMC) 
• NUST Fine Arts Club (NFAC)
 • NUST Bio Reach Society
 • NUST Entrepreneurs Club (NEC) 
• NUST Leaders Society (NLS) 
• NUST Excursion Club (NEC)
 • NUST Digital Club (NDC)
• NUST Water Sports Club 
• NUST Technical Amusement Club (NTAC)
 • NUST Paragliding Club 
• NUST Robotics Club (NRC) 
• NUST Quiz Club (NQC) 
• International Chapter (SCME) • NUST Trekking Club (NKC) 
• NUST GeneUs 
• NUST Archery Club (NAC) 
• NUST Cultural Club (NCC)
 • NUST Fitness Club (NFS)
 • NUST Physics and Astronomy (NPA)
 • Institution-based Clubs and Societies
 • NUST Ni Hao Club 
• IMEchE
 • NUST Hack Club
NUST'S MOU with Tech Valley to Facilitate Google Cloud Trainings for NUST Students and Professionals
In order to facilitate Google Cloud trainings for NUST students and industry leaders and professionals from diverse fields, NUST Professional Development Centre (PDC) signed a Memorandum of Understanding (MoU) with Tech Valley Pakistan, a step ahead towards Digital Pakistan. Under the MoU, NUST PDC and TechValley will jointly work to design and deliver the latest Google Cloud technologies in NUST labs and provide training through NUST PDC to utilize Cloud technologies for the use of AI and Data Analytics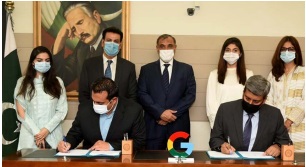 NUST PDC Signs MOU with Institute of Financial Markets of Pakistan
NUST Professional Development Centre (PDC) has signed a Memorandum of Understanding with the Institute of Financial Markets of Pakistan (IFMP), Pakistan's first financial market institute established as a permanent platform to develop quality human capital to meet the emerging professional knowledge needs of financial markets and create standards among market professionals. MoU has formalized the launch of the Certified Human Resource Professional (CHRP) Diploma Program in Karachi and, in near future, other certifications in the financial management & services sphere to inculcate practical capabilities in professionals and hence create a rich talent pool for both public and private sectors.