NUST and Zurich University of Applied Sciences ZHAW Collaboration
Uncategorized || ||

NUST has engaged with the Zurich University of Applied Sciences (ZHAW) from Switzerland to organize an online web exchange for researchers in Pakistan and Switzerland. It was an imperative session to establish the connections between two friendly countries' researchers, to further enhance and expedite the partnerships among institutions, and to exchange insights on the SDG-8 decent work and economic growth.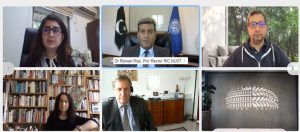 Where Dr. Rizwan Riaz, pro-rector (RIC), from NUST, and Waseem Hussain from Head of International Affairs Office, President's Office, ZHAW started the session with a welcome note. Followed by a series of succinct and constructive scientific presentations and areas to work with collaborations with ZHAW were discussed. At the end of the web exchange Barira Hanif, Deputy Director (Sustainability), NUST emphasized the coveted partnership between the two countries and the potential for researchers to work on sustainable development goals.
---