NGO
Uncategorized || ||

1.Collaboration with Aga Khan Agency for Habitat (AKAH)

In the realm of climate action Sustainability office of NUST, fostered progress in SDG-13 and signed a memorandum of understanding MoU with Aga Khan Agency for Habitat on 03 September 2021.

The collaboration's core area of interest is to establish habitat plans for disaster-prone valleys of Gilgit Baltistan and Chitral through environmental assessments, socioeconomic surveys, and coveted innovative research.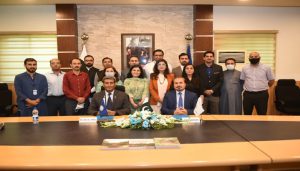 In signees are Dr. Rizwan Riaz pro-rector of Research Innovation and Commercialization (RIC) from NUST and Mr. Nawab Ali Khan, Chief Executive Officer CEO of Aga Khan Agency for Habitat (AKAH) with other senior official teams from both sides were attending the ceremony.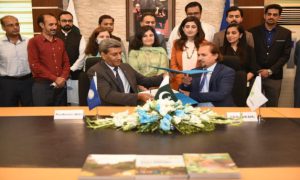 This mutual agreement will help reduce the exacerbated climate change impacts in the five valleys of Gilgit Baltistan and Chitral and is envisioned to provide the residents with safe and thriving habitats for their development.
2. ASAB Hunted the Projects-K2A
Through the partnership of NUST with Knowledge to Action K2A program of the Swiss Universities Development and Cooperation Network (SUDAC), ASAB has been awarded with 2 projects. One is earned by Dr. Fazal Adnan, his research group will work on monitoring and surveillance of various existing and emerging zoonotic infections at various hotspot areas in Pakistan.
Another project awarded to Dr. Ghulam Haider, his research group in soil biology lab will work on the crop residue to revenue at farm (R2R). It is of vital significance in terms of sustainable management of crop residues to stop on-farm burning which leads to atmospheric pollution like smog and greenhouse gases emission.
---