Islamabad September 3, 2021 – NUST Office of Sustainability (Nustainable) and Aga Khan Agency for Habitat (AKAH), Pakistan signed an agreement for exchange of scientific knowledge and expertise to develop habitat plans for sustainable development, at an auspicious ceremony here on Friday. Mr Nawab Ali Khan, Chief Executive Officer AKAH and Dr Rizwan Riaz, Pro-Rector Research, Innovation & Commercialisation NUST, signed the MoU in the presence of senior officials from both organisations.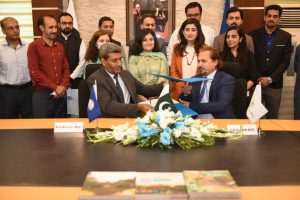 Under the newly formed partnership, AKAH will work in collaboration with NUST to develop habitat plans for five valleys in Gilgit-Baltistan and Chitral, by conducting socio-economic, cultural and environmental assessments and research. These assessments and research-based approach will lead to shape up innovative contextual spatial plans with rigorous stakeholder participation. Apart from habitat-planning, the collaboration can be extended to several other avenues of mutual interest.
The habitats plans are envisioned to provide a roadmap for all development partners and stakeholders, hence enabling optimisation of resources. Since the mountainous North is under continuous threats of exacerbated climate change-induced disasters, a robust planning will help build safe and resilient habitat where individuals, families and communities can thrive.
In his remarks, Dr Rizwan Riaz shared that embedding core principles of sustainability is one of the strategic aims of NUST, as it focuses on aligning all core functions of NUST, especially Research, with the UN SDGs. NUST takes it's responsibility towards addressing national needs, in this case effects of climate change, very seriously and is pleased to work with AKAH in those critical area.
Mr Nawab Ali Khan said that communities and their quality of life are at the core of AKDN's interventions across the globe. AKAH is strengthening its linkages and making partnerships to build safe and sustainable habitats where communities not only survive but thrive. He maintained that the partnership with NUST is of paramount significance as it will pave the way for devising plan of action for individuals and authorities to build houses and structures at safer areas and introduce adaptation measure to reduce climate-induced risks to human lives and habitats.
NUST has established "Office of Sustainability" in conformance with international practices, to pledge itself to sustainability and provide an institutional platform for effective collaboration with national, regional, and international stakeholders on sustainability initiatives.