For the first time in Pakistan, Friends of Paraplegics (FOP), in collaboration with the Embassy of Germany and National University of Sciences & Technology (NUST), launched the "Accessible Pakistan Application" at the university's main campus on 9th March,2020. The application draws upon a unique concept that focuses on the social integration of Persons with Disabilities (PWDs) and senior citizens, by highlighting the universal accessibility standards and building by-laws. Supported under the Micro Project Scheme of the Federal Republic of Germany, the Accessible Pakistan Application helps in the online identification of accessible spots/services for Person With Disabilities (PWDs) and old-aged citizens, through Android & IOS applications and website.
In addition to a large number of students and faculty, prominent dignitaries attending the launch included Ms. Romina Khurshid Alam, MNA, member of SDGs task force, Dr. Palitha Mahipala, WHO Representative in Pakistan, Ms. Annika Wistrach, Representative of German Embassy and Mr.Irfan-ullah General Secretary, Friends of Paraplegics.
Ms. Romina Khurshid Alam praised Accessible Pakistan as a leading initiative to provide information about places with assistive devices and assistive facilities all across Pakistan for inclusion of the disabled. She also mentioned that it will contribute towards ensuring a fully all-encompassing environment that supports PWD, elderly people, pregnant women and women with baby carts, and emphasized that skills based education is the key to fight physical disability and emphasized on including health and physical education in the curriculum. Mr. Palitha Mahipala briefed the audience about the role of WHO in striving for the rights of people with physical impairments nationally as well as globally. Mr Irfanullah updated the audience about the specification of the app, particularly highlighting the additional features of "on-the-spot location suggestion" to help users suggest an accessible place, thus enabling users to share their experience and ensure accessibility under building codes with the help of local authorities.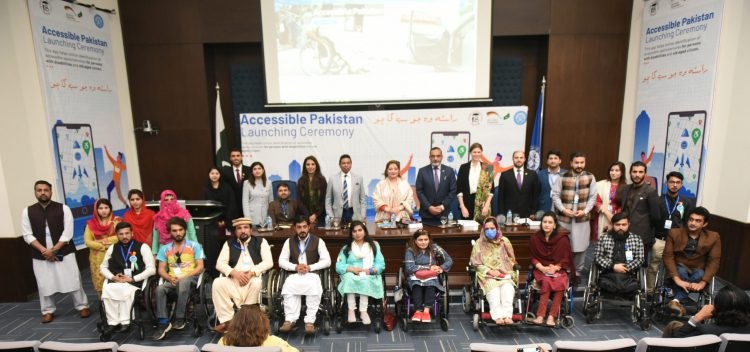 In his address, the Pro-Rector Research Innovation Commercialisation (RIC) NUST Dr Nassar Ikram, remarked that education is one of the most important means to empower differently-abled communities with knowledge, skills and self-confidence. He included that the universities should play a pivotal role not only to empower the under-represented groups and sensitize society on their issues, but also to address social needs through relevant research and advancement. He presented that being the tech leader as national S&T university, NUST is going all out to guarantee comprehensive development through hearty effort projects and need-based grants, professional training for the diversely-abled and the oppressed, social business enterprise, etc.
Friends of Paraplegics (FOP) is a non-government organization registered with the Directorate of Social Welfare, Government of Khyber Pakhtunkhwa, and is striving for the rights and well-being of differently-abled people in general and people with spinal cord Injuries in particular.