Decent work and
Economic Growth
NUST Placement Ecosystem
560 recruitment drives, 21607 internships offered, 10768 jobs, 1200 industries engaged in the last six years, 91% employment rate
NUST: Pakistan's No 1 university in employers' reputation
NUST has a strong ecosystem supporting placements of its students for internship and jobs for its graduates, through active engagement with the industry. A large number of on-campus recruitment drives, industry sessions, and alumni talk series are conducted across all schools and campuses. Being a comprehensive university, industries matching each discipline are selected. NUST has thus achieved a 91% employment rate as per QS ranking criteria and ranked as Pakistan's No 1 university in employers' reputation
NUST Minimum Wage Policy and Child Labour
NUST adheres to minimum wage policy, as communicated by the government of Pakistan, for all the activities outsourced at NUST. There is a stringent policy on employing children and juvenile workers for these outsourced activities.
Employee Benefits at NUST and Equity of Wages
"NUST provides a conducive environment to growth for its employees and ensures equal wages based on merit, qualification and experience. Several other facilities include subsidized housing on campus with facilities  like sports and gym, health (including free mental counselling), health insurance, child care and schooling , anti-harassment and grievance policies.
Preparing Students for Employability
In order to prepare our students for the job market, we implement custom made career development programs focusing mainly on developing employability skills applicable to the competitive job market. The career  development program includes Career Orientation Seminars, Workshops on Resume Writing, and Workshops on Interviewing Techniques, Oneto-One counselling sessions, and Focused Group Discussions (FGD).
She Means Work (Learning-Based Strategies Pvt Ltd) Signs MOU with NUST
With the goal to hire competent and professionally groomed graduates from Pakistan's premier higher education institution, She Means Work (Learningbased Strategies Pvt Ltd) has signed a Memorandum of Understanding (MoU) with NUST. Ms Arooba Gillani, GM Placements at NUST, and Ms Lubna Bhayatv, CEO She Means Work, signed the MoU, acknowledging the vast pool of top-tier human resources that NUST has to offer, the agreement will afford NUST graduates and students with a new avenues to avail job and internship opportunities.
NUST Signs MOU with Reliable & Secure Solutions (RNS)
NUST and Reliable & Secure Solutions (RNS) have signed a Memorandum of Understanding (MoU) to help RNS obtain human resources from NUST. Both sides also agreed to work together on collaborative research projects targeted at addressing industry's most pressing challenges and improving industrial efficiency. RNS will also assist NUST in the conduct of on- and offcampus recruitment drives.
Two-Day Thematic Job Fair Held at NUST H-12 Campus
Amidst strict adherence to SOPs in the wake of the pandemic, National University of Sciences & Technology (NUST) arranged an elaborate two-day thematic Job Fair 2021 at its Islamabad Campus. Day 1 witnessed the participation of over 110 top organisations from sectors as diverse as Manufacturing, IT, FMCG, Civil, Mechanical, Electronics, Construction and Telecom for recruiting NUST's top students from disciplines of Engineering, IT, Biosciences and Architecture. Prominent firms at the job fair included Frontier Works Organization (FWO), Telenor Pakistan, MTBC, Ibex, Netsol, Allied Contractors, Dawlance, Interwood, Skyelectric, Intech Process Automation and Darson Industries, to name a few. On the sidelines of the job fair, an MoU was also signed between NUST and ICCI to collaborate for research, commercialization, and industry visits and placements of NUST students, graduates and faculty. Engr Javed Mahmood Bukhari, Rector NUST, and Mr. Sardar Yasir Ilyas Khan, President ICCI, signed the agreement. On day 2, around 60 industries related to Business Management, Social Sciences, and Natural Sciences, conducted the interviews of a large number of aspiring final year students enrolled in the relevant disciplines. Top employers included United Bank Limited, Faysal Bank, Habib Bank Limited, Telenor Microfinance Bank, PTCL, Ufone, Telenor, European Complex, etc. Mr. Nadeem Khan, Chief Financial Officer, Pakistan Telecommunication Company Ltd (PTCL), along with Mr. Raza Sarwar, Group Head HR Talent Acquisition & Outsourcing PTCL, and Dr Ashfaque Hassan Khan, Principal School of Social Sciences & Humanities (S3H), inaugurated the event.
Lecture on "The Economy of Pakistan"
Strong economy can ensure better lifestyle and better employment opportunities for the public. However, the economy of Pakistan has been struggling for decades because of: a) an initial weak financial system b) Covid 19, further slowed down the economy. To understand the current financial crisis, NIPS organized a lecture on "The Economy of Pakistan: Challenges & Way Forward" on November 04, 2021. Dr Ashfaque Hasan Khan, veteran economist and Principal, School of Social Sciences & Humanities, contextualized the economic struggles of Pakistan and what measures need to be taken to strengthen the economy. The post event report of the lecture was shared with relevant and key stakeholders of the economy.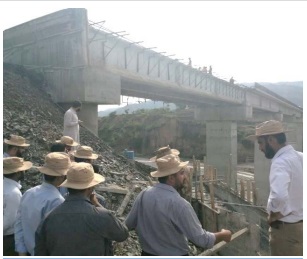 MCE Internship Program
Realizing the need of fostering AcademiaIndustry linkage and the fact that  students are not being provided enough opportunities to translate theoretical knowledge into learning outcomes of real world problems, a comprehensive (structured and supervised) internship program has been planned and well executed in the month of October 2021.The initial feedback showed an emerging trend towards learning and students were able to gain considerable industrial experience that will be beneficial for their professional life.
NUST Signs MOU with Velosi Integrity and Safety Pakistan (Pvt.) Ltd.
NUST and Velosi Integrity and Safety Pakistan (Pvt) Ltd have inked a Memorandum of Understanding (MoU) to assist the latter in acquiring the services of accomplished NUST graduates and competent students for various jobs and internship positions. Ms Arooba Gillani, GM Placements, and Mr. Kamran Ibrahim, Operations Manager, signed the MoU on behalf of NUST and Velosi Integrity & Safety Pakistan, respectively. In his remarks, Mr. Imran looked forward to hiring NUST students and graduates as soon as relevant vacancies arise in not only his organization but also other partner organizations. He also emphasized that in order for public and private sector organizations to enhance their output, it was imperative to engage talented and skilled youth from higher education institutions like NUST.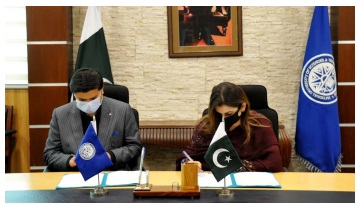 NUST and OED Ink MOC
NUST and Overseas Employment Corporation (OEC) inked a Memorandum of Cooperation (MoC) at the Ministry of Overseas Pakistanis & Human Resource Development (OP&HRD), Pak Sect, to facilitate OEC in acquiring services of human resource from NUST. Signatories also agreed to work together on joint research projects that would help resolve key issues facing industry. NUST Pro-Rector Research, Innovation & Commercialization, NUST Dr Rizwan Riaz and Managing Director (OEC) Mr. Kashif A Noor signed the MoC.