Climate Action
NUST Welcomes Spring with Tree Plantation Drive
With the dearly anticipated spring season ushering in, National University of Sciences & Technology (NUST) embraced the pleasant change in weather by kicking off a massive tree plantation drive at its main campus. Maj Gen (Retd) Jahangir Khan, NUST Pro-Rector Planning & Resources, inaugurated the eco-friendly campaign by planting a Citrus tree. He was flanked by an overwhelming number of students, faculty and university officials, who together planted over 400 tree saplings of Citrus, Fig, Loquat, Pine and Olive at the area earmarked for this year's campaign. More than 3000 trees will be planted during the campaign, taking the overall count of trees around the campus to over 100,000.
Risalpur Garrison Waste Management Workshops at MCE
Workshops on Solid waste management were organized and conducted by MCE The events were associated with SDG 13 (Climate Change). The main objective of the seminars was to create awareness among the residents of Risalpur Garrison regarding different ways of solid waste management. They were trained
to handle different type of waste materials in an efficient way. The lectures aimed to have realization of waste reduction & efficient use
of resources by ensuring that the waste of one
sector can be used as raw material in another.
Green Commuting within Campus for Students and Staff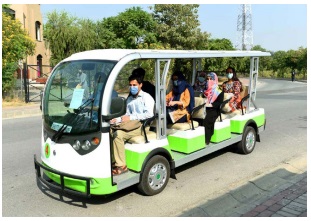 NUST has an elaborate and well-organized transport system to meet the requirements of students, faculty and staff. There is a special emphasis on environment-friendly transport system. NUST runs a fleet of electric cars within its campus to minimise carbon emission. Electric cars are used as shuttle service between various locations within the campus i.e., hostels to various school/offices and from gates to schools/hostels/offices. NUST also has an elaborate transport system for pick and drop of students, faculty and staff from all localities of the city with variable timings. Transport is also made available to facilitate students for industrial visits, research projects, club activities, society/community initiatives, awareness walks and excursion trips.
NUST Alumnus Start-up "ECOLAD" Provides Green Commuting Options to Students and Staff on Campus | 10000+ University Residents Users, 3.35 Million Tons of Carbon Emissions Saved
ECOLAD isa start-up by one of our very own alumnus from NUST School of Natural Sciences, Muneeb Ahmad. ECOLAD fights climate change through eco-friendly initiatives. It is Pakistan's first electric scooties and bicycle-sharing start-up, currently operational at NUST to provide a green transport solution for short-distance commutes. ECOLAD currently has a registered
user base of 10,000+ university residents, annually saving around 3.35 million tons of carbon emissions. ECOLAD was awarded the 'Green Business Resilience Award 2021' and received the title of 'The Most Pioneering Bicycle and Electric Scooter Sharing Platform in Asia' in Global Green Business Awards 2021. Global Green Business Awards 2021 by Acquisition International is an event that emphasizes innovation in corporate sustainability and rewards those who are
competent in providing useful solutions to societal demands