Clean Water and Sanitation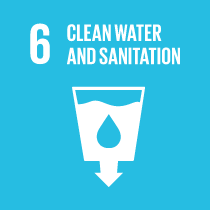 18 Research Projects | 793 Publications | 13 Patents 
Waste Water Treatment Plant
With water shortages plaguing the world, water scarcity has become one of the largest threats facing society today, making it one of the UN's main sustainable development goals. Therefore, NUST is aiming to focus on developing new projects and technologies to reduce its water consumption. Our researchers developed and installed the Wastewater Treatment plant which is a low-cost technology requiring minimal energy and operational attention for the treatment of wastewater. 

A joint project of UNESCO and NUST, it is able to produce 75,000 gallons of recycled water per day for the entire horticulture of NUST. Unlike the rest, wastewater treatment presents a sustainable shortterm and long-term solution to water scarcity. Currently, around 20,000 liters of water is being recycled per day which is used for horticulture, thus significantly reducing water usage of the campus.
Water conservation from Waste heat recovery power plant cooling towers
Freshwater is expected to become increasingly scarce, generally at global level and specifically in Pakistan as temperature and sea levels rise due to the global climate change. Water security is an important and growing challenge in Pakistan which extends far beyond the traditional water sector management. It affects not only economic and social development but national and regional security also. To explore the potential of conserving water and using it efficiently everywhere in need of today. In Pakistani context, the legal and statutory pressures are also increasing to limit the underground water usage for commercial purposes. To reduce the water usage and solve the problem of water shortage to some extent, the Fauji Cement Company Limited (FCCL); a well-established cement manufacturing industry, sought to make the cooling towers more efficient. Waste Heat Recovery Cooling Towers consume a huge quantity of water for compensating evaporation losses and to reduce them was a huge challenge. This project, conducted at NUST for FCCL, identified the causes of evaporation losses of cooling towers at FCCL and devised methods to reduce these losses. The project was successfully completed and deployed in the industry, resulting in several gallons of water-saving for the industry
Water Conservation Awareness Walk
Against the backdrop of a worsening water crisis in Pakistan and prompted by the potential threat of turning into a waterscarce country, NUST has embarked on a robust countrywide campaign to raise awareness on water conservation among the general masses. As the saying goes, "charity begins at home," NUST kicked off the massive campaign, starting with an intra-NUST drive, wherein students, faculty and staff were educated about the imminent threats of water scarcity and the urgency both for individual and collective efforts to convert this disastrous situation into an opportunity,
NUST has already advanced to the second tier of its campaign, which aims to awake common people to the looming water crisis. In this context, NUST organized a "Water Conservation Walk". An overwhelming number of students, faculty and people from different walks of life participated in the water-friendly walk. They were holding placards and banners inscribed with slogans like "water conservation is our national duty" etc. Water Awareness Stalls were installed at various frequently visited spots in Islamabad.
NCSC kicks off water conservation awareness campaign
Campaign: Full Month, Outreach: 46000 school students

With the advent of the Water Conservation Awareness campaign in NUST, NUST Community Service Club has been at the forefront of helping educate the community about this very important cause. 

In this pursuit, a team of 9 students, led by a faculty sponsor, visited several schools in Islamabad. Their goal in doing so was: "Spreading the cause by making people aware of Pakistan's water situation and stressing on the consequences of negligence in this regard"
The boys' team visited two schools for a full month, the outreach of which reached 46000 students of 7th to the 10th grades. Fliers printed with simple instructions and illustrations, on how to save water, issued by the National Engineering Council, were distributed in the classes which the volunteers attended. It was an interactive session where they were asked about the importance of water in their daily lives and what would happen if Pakistan was to run out. Students were told about the crisis, asked to brainstorm about how they could play their role as an individual to save water. 
After the survey, 158 more students were being engaged in "Water Conservation Awareness Campaign" as part of their 20 hours' field assignment 2 of "Community Service Serving Learning Course" in Government and private schools of Islamabad and Rawalpindi. 
International Water Technology Workshop
NUST in collaboration with UNESCO organised a 2-day "International Water Technology Workshop (IWTW): Water-related Disaster Risk Reduction (DRR)" in February 2019. Organised at the university's main campus, IWTW attracted international experts as key speakers from UNESCO, Japan, Australia and China, besides leading national experts in the field, researchers, scientists, water professionals, end-users, managers, decision makers, and stakeholders from universities, research institutes, etc. It offered an opportunity to present and discuss the most recent technological innovations and scientific developments associated with the water-related DRR. Objectives of the workshop were facilitation of scientific discussion, knowledge exchange and collaboration among experts and stakeholders; discussion on latest scientific research, methodologies, tools, technologies, and policy approaches on water-related DRR and collection of practical cases of this stocktaking on water technologies as a demonstration of the implementation of these tools and approaches for early flood warning and flood management.

The focus of the workshop was also aligned to following UN Sustainable Development Goals (SDGs) framework KPIs:
• By 2020, substantially increase the number of cities and human settlements adopting and implementing integrated policies and plans towards inclusion, resource efficiency, mitigation and adaptation to climate change, resilience to disasters, and develop and implement, in line with the Sendai Framework for Disaster Risk Reduction 2015-2030, holistic disaster risk management at all levels.
• By 2030, significantly reduce the number of deaths and number of people affected and substantially decrease the direct economic losses relative to global GDP caused by disasters, including waterrelated disasters, with a focus on protecting the poor and the vulnerable.
Roundtable: Managing the Waters; Appraisal of Pakistan's Problems and Way Forward
A roundtable event, focusing on the water issues of Pakistan, titled "Managing the Waters; Appraisal of Pakistan's Problems and Way Forward" was held in Oct 2019. Engineer Suleman Najeeb Khan and Dr Muhammad Ashraf, Chairman Pakistan Council of Research in Water Resources (PCRWR) spoke on the topic and gave their valuable input. The roundtable dealt in detail with the problems and challenges associated with national water resources development, management, and governance. Water experts, professionals, policy researchers, academics, and students attended the roundtable. Renowned experts from Balochistan, Punjab, and Sind were also present The roundtable consisted of two major issuebased presentations followed by an interactive discussion in which the participants shared their views on various aspects of the topic under deliberation.
Design and Supervision of Low-cost decentralized wastewater treatment system (DWTS) for Peri-urban Area of Islamabad
The SDG targets for water, sanitation, and hygiene pose a serious challenge over the coming 15 years. In the sanitation sector, moving from basic sanitation (latrine use only) to improved and safely managed sanitation requires either safe excreta disposal on-site or treated off-site. Pakistan being a populous country is facing alarming urbanization and such scenario requires affordable, effective, and sustainable sanitation technologies either for on-site treatment (without sewers) or piped sewer network combined with off-site treatment for urban centres as well as rural areas. Under the proposed project by NUST faculty Dr Sher Jamal Khan, sanitation technologies for small to medium sized cities will be investigated for effective wastewater treatment and safe disposal in urban areas particularly focusing on poor communities in informal settlements. NUST and Water Aid have worked on providing end-pipe technological solutions in the rural area of Muzaffargarh as well as in a controlled environment of Lalamusa Academy. Further, focus would be to maintain oversight and create complete successful models for showcasing nationally. The project also ensures the capacity building of municipality technical staff and local government representatives on applied engineering knowledge and skills to ensure long term sustainability of such solutions. Lastly, the government stakeholders will be influenced with affordable and sustainable wastewater treatment systems (WWTS).